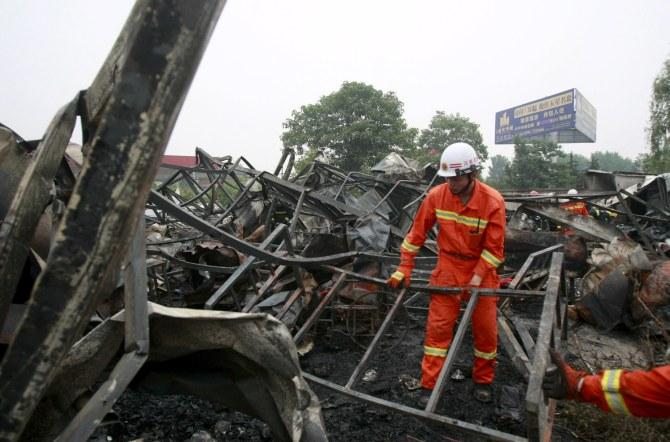 Firefighters clean up the debris after a fire at a rehabilitation centre for the elderly in Sanlihe village of Pingdingshan, Henan province, China. Photographs: Stringer/Reuters
A massive fire engulfed a private nursing home for senior citizens in central China, killing at least 38 residents who were charred beyond recognition and prompting authorities to order nationwide safety checks of public buildings.
The inferno at the privately-owned Kangleyuan Rest Home in LushanCounty, PingdingshanCity started last evening, according to a statement issued by the HenanProvince publicity office on Tuesday.
The six injured, two of whom are in serious condition, have been hospitalised, state-run Xinhua news agency reported. The blaze swept through the complex, which is home to 51 senior citizens, before being put out after nearly an hour.
Buildings were gutted and collapsed while frames of destroyed beds and wheelchairs scattered around at the site, which has been cordoned off, Xinhua reported. The search and rescue operation involving hundreds of rescuers ended this morning, said the statement.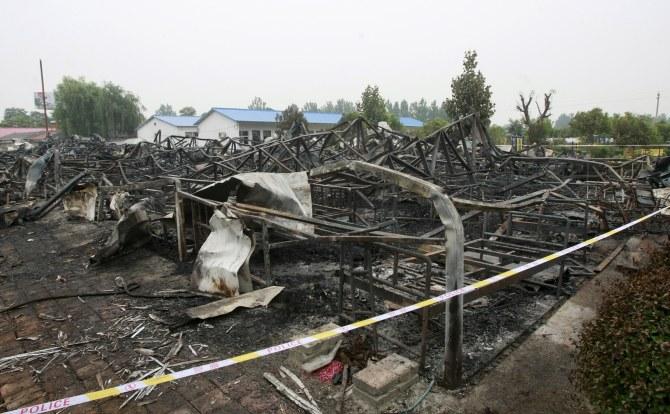 A general view shows the debris after a fire at a rehabilitation centre for the elderly in Sanlihe village.
"I was in my bed at the time. Suddenly, I saw a worker with the rest home run out of a room on fire and he shouted 'Run! Run!' to me, so I dashed out," said 78-year-old Guo Xin.
"They are bedridden or rely on crutches. They can't even eat by themselves," Guo said. Survivor Zhao Yulan, 82, said she was rescued from her room, which she shared with 11 other people.
"Only myself and one other roommate managed to get out," she said. Relatives of some of the home's residents told Xinhua that the identification of their family members was very difficult.
"The bodies were so badly burned, we couldn't tell who was who," one of them said. The 130-bed rest home project was approved by the local civil affairs authorities in late 2010. Located in the county seat of Lushan, it covers an area of two hectares and has a floor space of 600 square metres.
The home's legal representative has been taken in police custody. The Ministry of Public Security ordered an immediate check of nursing homes, kindergartens, child centres and hospitals across the country.
China is facing grave challenges in caring for its rapidly greying population, which accounted for 15.5 per cent of the population by the end of 2014. One in four Chinese will be older than 60 by 2030, according to the ministry of civil affairs.
The country has witnessed similar accidents in the past. In February, at least 17 people were killed in a major fire triggered by a nine-year-old boy who was playing with a lighter at a multi-storey wholesale market.
In a January incident, a major fire destroyed 21 houses in an ancient ethnic village in south China's Guangxi Zhuang Autonomous Region, rendering 130 people homeless.