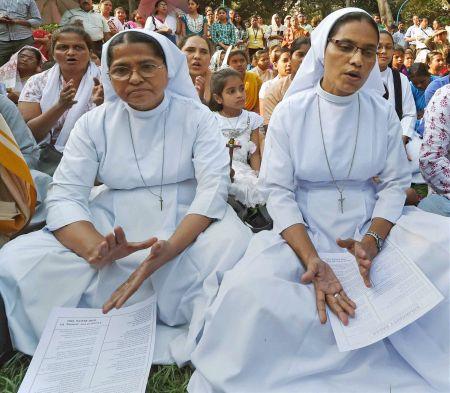 Five days after a 71-year-old nun at a convent school in Nadia district of West Bengal was gang-raped, the woman has pleaded to spend some more time in the hospital.
Amid mounting outrage over the incident and the culprits still roaming free, the West Bengal government had on Wednesday decided to hand over the case to the Central Bureau of Investigation.
Police said no arrests have been made as yet though 15 persons have been detained in connection with it.
Ranaghat sub-divisional hospital superintendent A N Mondol said the nun had been declared fit for discharge on Wednesday, but she wrote to the hospital authorities on Wednesday night saying that she wants to stay for "more time", which was accepted by the hospital authorities, he said.
Mondol said the hospital authorities had told her that she could stay as long as she wanted and the medical board would continue to treat her.
Accordingly the medical board conducted tests on her and found her to be physically and mentally fit, he said.
The nun was gang-raped at the convent at Gangnapur in Ranaghat in West Bengal's Nadia district in the early hours of March 14.
In Kolkata, Father Faustine Brank, member of the committee of the convent, said it is yet to take any decision on when the nun would be brought back. "The management has to decide this. We have not yet taken any decision," Brank said.
Herod Mullick, state working president of the Bangiya Christiya Pariseba, said the elderly nun is still traumatised and wants to stay for some more time at the hospital.
Meanwhile, CID teams visited the convent during the day and were seen taking photographs and making sketches of the convent building.
Image: Nuns protest against the gang-rape of their colleague in West Bengal's Nadia district. Photograph: PTI photo