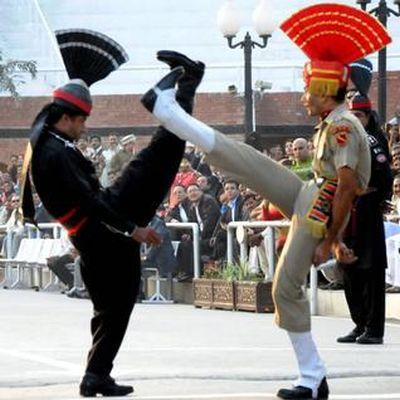 The sudden arrest and immediate release of Kashmiri separatist leaders who are to meet Pakistan National Security Advisor Sartaj Aziz introduced an intriguing element into the scheduled talks he will have with his Indian counterpart Ajit Doval on terror on next week.
The invitation by the Pakistan high commission to hardliner Syed Ali Shah Geelani and other separatist leaders including Umar Farooq on Sunday to meet Aziz has upset New Delhi but Pakistan has stuck to the line that such meetings were "routine".
Pakistan foreign office said in Islamabad that consultations with Hurriyat leaders were a "routine matter" and a "long standing practice".
The sudden house arrest of Hurriyat leaders introduced a new element into the talks scenario and prompted speculation about Pakistan reaction. However, a couple of hours later, the restrictions were lifted.
Official sources said the detention of the separatists was a message to Pakistan that there was no third party to discussions between the two countries on the issue of terror. It was also a signal that they could be detained again if need be to prevent them from meeting Aziz.
The Indo-Pak NSA-level talks were on course as of now but there may be a new twist should separatist leaders be prevented from coming to Delhi to meet Aziz. "The ball will then be in Pakistan's court," the sources emphasised.
The Pakistani invitation, which is seen as yet another "provocation" by the Indian side, comes after persistent ceasefire violations as well as two terror attacks in recent weeks in Gurdaspur and Udhampur, which many observers see as Pakistan Army's opposition to any discussions with India.
Though the Indian government has not made any official comment on the invite to Hurriyat leaders, sources said the situation was being monitored and India will "respond appropriately". "Let's see what happens. We are monitoring the situation," they said.
Asserting that there are some sections in the Pakistan establishment who want to "scuttle" the Indo-Pak talks and are ratcheting up anti-India activities thereby, pushing India to call off NSA-level talks.
"The invitation should be seen as latest provocative move in that direction," the sources said, and added, "We believe that terror and talks cannot go on together but we are not shy of talks on terror."
Last year, India had unilaterally called off Foreign Secretary-level talks after the Pakistan high commissioner here had held "consultations" with the Kashmiri separatist leaders on the eve of the FS-level meeting in Islamabad.
Significantly, Pakistan high commissioner Abdul Basit had last week said his country will not "abandon" the Kashmiris' "legitimate struggle for freedom", stressing that to have normal and cooperative relationship with India it was necessary to settle the decades-old dispute.