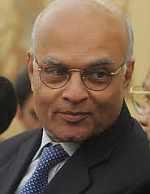 National Security Adviser Shivshankar Menon on Monday downplayed the recent "map row" with China contending that the issue required to be looked at in the perspective of boundary talks, which have made progress.
"I think you need to see these things in some perspective. We do have differences on where the boundary lies. We are discussing them. We have made progress in dealing with that," Menon said in reply to questions on China issuing e-passports that show Arunachal Pradesh and Aksai Chin as part of China.
The NSA said Chinese documents show their version of the boundary, while Indian documents show "our version of the boundary".
Menon's comments come in the wake of External Affairs Minister Salman Khurshid terming the Chinese actions as "unacceptable".
"What has changed? The Chinese have a view on where the boundary lies, which is why we are having discussions on the boundary because we have differences on where the boundary is," Menon said after releasing six books on China at the Observer Research Foundation in New Delhi.
"Chinese chose to put a watermark on their passports which shows the boundaries as they see it. We show our boundary as we see it on visas that we issue. So, what has changed? On our documents we continue to show what we regard as our boundary, they show their claims on their documents," he said.
Menon said India and China have agreed on a three-stage process for settle the boundary issue. "We are in the process of agreeing on a framework to settle the boundary and the next step, hopefully the third stage, is to actually agree on a boundary. Right now we are at the second stage," he said.
© Copyright 2022 PTI. All rights reserved. Republication or redistribution of PTI content, including by framing or similar means, is expressly prohibited without the prior written consent.