California doctor Harmandeep Rai and his friend Rupinder (Ruby) Kaur have alleged that they were ill-treated and humiliated at the Delhi airport, with Rai claiming the airport police beat him up with no reasonable cause.
The police have denied his charges, and claim that their action was in response to him being drunk, abusive and aggressive.
The incident happened September 29 when Rai and Kaur reached the Indira Gandhi international airport in New Delhi. Kaur was pulled aside for questioning over what the airport police described as her resemblance to someone mentioned in a lookout circular.
Kaur said she was unlawfully interrogated, detained and mentally tortured by Indian immigration and police officers at the airport.
"I was scared of these officers because there was no lady police or immigration officer in the room they detained me," alleged Kaur, adding that the officials asked her personal and embarrassing questions that had nothing to do with her resemblance to a wanted person before each of them repeatedly asking her if she was on the run.
She asked them to at least inform family members waiting for her outside the airport that she had been detained, but was allegedly told they were not her servants, and that she could not expect special treatment after American officials had detained former Indian President Abdul Kalam and actor Shah Rukh Khan. She said they also said 5,500 Punjabis like her were on the run from the Indian government.
After being interrogated for about four hours, Kaur was allowed to leave, but she says she still has nightmares about the incident.
Meanwhile, Rai, who was waiting outside, had begun asking the immigration agents about Kaur's status.
"I was worried why they were taking so long," said Rai. He said he spoke to the immigrant agent about Kaur's status after 45 minutes and then after every 45 minutes or so. Each time he was told the matter would take a few more hours.
"I was getting worried that our relatives waiting outside to receive us would go back to Punjab so I asked (officers) Jaipal (last name unknown) and Vikas Bhushan to let me know the status of my friend." After a few fruitless inquiries over the hours he said he sought to file a complaint.
"When they heard a word 'complaint,' they got agitated and told me that I could not file any complaint and this investigation could take another two hours if they wanted," Rai said, adding that he then sought to speak to their superior.
Rai alleged that Bhushan fell back on vulgar Hindi abuses and threatened to break his legs as any police officer had the right to.
"Officer Jaipal who was standing by, told (the immigration) officer and Bhushan that they should take me in the back room and teach me a lesson," Rai alleged, adding that he realised the situation was going out of control and so went and waited by the duty-free shopping area.
Rai said that two officers and Jaipal came up and said they needed to speak to him. He said he agreed but declined to join them in a secluded room.
He alleged that seven officers present there pushed him into the room and proceeded to punch and kick him.
"They told me that they could make me disappear forever if they wanted to. They forced me to (squat) on the bare floor and told me to grab my ears from beneath my legs," he alleged, and when he refused the officers cursed and punched him. He claimed that Bhushan, Jaipal, a deputy commissioner of police as identified by Bhushan, and four other officers were involved in the assault while the remaining two officials stood guard at the door.
Rai also claimed that if he was told that if he decided to run from the room they had the right to shoot him.
Four hours later, when Rai was taken to a police station where he came before Station House Officer Varinder Jain, he saw Bhushan was also there.
"I told (the police) that this officer had beaten me up and cursed at me. Jain said that could never happen," said Rai. The officials alleged he had cursed them and defamed India. He was charged under sections 186 and 353 of the Indian Penal Code, which deal with, respectively, obstructing a public servant discharging public functions, and assault or criminal force to deter a public servant from discharging duties. He was offered bail after a night in jail.
Rai said that while he got back his passport after spending a lot of money, he still has a case to fight in India.
"I feel my basic human rights are violated. I am a proud grandson of a freedom-fighter. I have proof of donations I sent to India for different causes," he said.
Rai migrated to the US from Punjab with his parents when he was 17, studied at the University of California-Davis and is now a licensed doctor in California.
Sub-inspector Randhir Singh, who is investigating the case, told Rediff.com that he was not authorised to talk to the media, and transferred the call to Station House Officer Varinder Jain, who had a different story to tell about Rai.
"He was totally drunk on that day. He was using foul language at the airport and created a total mess. He abused and assaulted everybody, and hindered the police and the immigration officers," Jain said.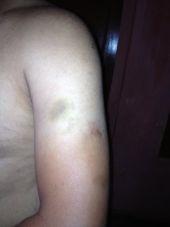 He denied that Kaur had been held for many hours and that she was just being questioned because of the similarity with the person described in the lookout circuit.
Jain also said that an hour or two after being arrested the detainee was given a medical check-up and a report filed. He said the police had footage and the medical report to back their charges. But the First Information Report does not mention Rai being drunk.
Asked about the charges of drunkenness, Rai said, "I have never drunk a drop of alcohol in my life. Why didn't they mention that in the FIR? Why didn't they get the medical lab report to (show) that I consumed alcohol?"
The North American Punjabi Association, a non-profit that advocates for people from Punjab in the US, strongly condemned the alleged mistreatment and mental torture of a US-based medical doctor.
Association official Satnam Singh Chahal urged the Indian government to immediately suspend the officers responsible for mistreating Rai and to ensure he gets justice.
Besides, he asked, "Why were there no woman officers in the room while (male immigration) officers were questioning Kaur? It seems the government is not yet serious about the safety of women in India." He asserted that no woman could feel safe in such conditions and suggested a cover-up, going by the fact that Rai's alleged drunkenness was not mentioned in the report.
He said the group plans to raise the issue at a November 19 meeting in the Indian embassy in Washington, DC.
Image (top left): Harmandeep Rai (middle) Rai shows his wounds