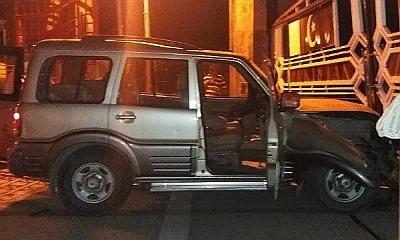 In a major security breach at the Wagah-Attari border crossing with Pakistan, an NRI crashed his SUV into the security gates at the Attari Joint Check Post in the wee hours of Monday and reached the Zero line at the International Border.
The 42-year-old NRI from Canada, who originally hails from Jalandhar and was identified as Surinder Singh Kang, was later arrested by the BSF, Punjab Border Range IG Lok Nath Angra said.
Kang smashed his SUV into two gates before being overpowered by BSF personnel, Angra said, adding that "few medicines consumed for mind relaxation were recovered from his possession."
BSF IG Anil Paliwal said that "the person broke into two gates before being arrested and was handed over to Punjab police."
Angra said that a case under attempt to murder, Passport Act and preventing government official from performing his duties had been registered against the person who was driving a grey-coloured Mahindra Scorpio vehicle.
"Investigation is under process," Angra said, adding that it was "pre-mature" to establish that he was a psychiatric patient.
A senior BSF official said that the NRI has told investigators that he wanted to pay obeisance at Nankana Sahib in Pakistan, but thought obtaining visa and going through other formalities would take time. The Attari-Wagah JCP is about 30 km from the holy city of Amritsar.
Giving details, another senior BSF official said that between 3:30 am to 4 am, after paying obeisance at the Golden Temple here, the NRI crossed the first gate near the border after which he smashed a Customs barrier whose pillars broke and then proceeded towards the Swarn Jayanti Dwar, and was apprehended before he could further proceed towards the international gate.
"He told us that he wanted to pay obeisance at Nankana Sahib, but did not want to wait for the visa and other formalities and adopted the illegal way," the official said.
The vehicle stopped near the Pakistani gate at the border, BSF sources said.
Meanwhile, Pakistani Rangers are understood to have written to the BSF authorities seeking an inquiry into the incident.
Some media reports said that the NRI was apparently "drunk" at the time when he rammed his vehicle into the security barriers.