For the first time, the Islamic State terror group has released its propaganda song in Mandarin calling on Chinese Muslims to wage Jihad, escalating pressure on security forces battling Uyghur militants in volatile Xinjiang province.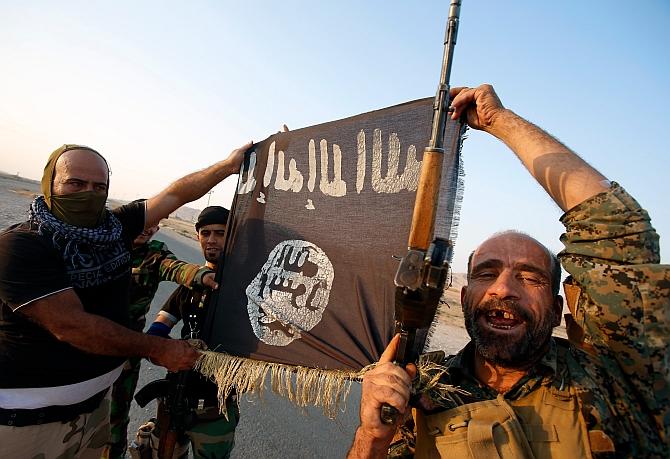 The four-minute song (external link) titled 'We are Mujahid', released on Sunday by the IS propaganda website Jihadology, contains lyrics such as "It's our dream to die fighting on the battlefield," "No power could stop us from moving forward," "Pick up your weapons to revolt," and "The shameless enemy would panic".
The song has been released on the IS website to strengthen its presence in China by stepping up recruitment from among over 21 million of Chinese Muslims especially after the recent killings of Chinese nationals overseas, the state-run Global Times reported.
The IS website Jihadology describes itself as an "academic website that curates new primary source material from global jihadis" on its Twitter account.
"This is the first time that the IS has released a Chinese song to recruit members or inspire its followers," Zhu Yongbiao, assistant director of the Institute of Central Asia Studies at LanzhouUniversity, told the daily.
Zhu said that the IS regards China as one of its major enemies considering China's increasing efforts in cracking down on terrorism, not only in restive Xinjiang but also in seeking cooperation with neighbouring countries.
"Another reason for claiming China as one of its main enemies is that as a self-claimed spokesperson of its religion, the IS always includes China's Xinjiang region as part of its ambitious plan to built a global caliphate, which the Chinese government's policies make it hard to realise," Zhu said.
Reacting to the video, Chinese Foreign Ministry spokesperson, Hua Chunying told a media briefing that it is time for the United Nations to fight the menace of terrorism and extremism.
"Terrorism is our common and no country is immune from it. We should form synergy in fighting all forms of terrorism. This is why we call for broadest possible framework under UN, including terrorism spread by the internet," she said.
Terrorism and extreme thoughts are spread through internet and there is a need to stop these extreme thoughts and cut off flow of funds for terrorism and intensify efforts in this regard, Hua said.
Wang Guoxiang, a Beijing-based expert on Middle East issues, said that the songs are deliberately sung in Chinese to attract other Muslim groups in China that speak the same language as Han majority people.
Experts fear that some people who sympathise with religious extremism could be inspired by such song and become Islamic State's followers.
They say that it is an alarm call for China to pay greater attention to the IS, as it makes great use of social media to exert its influence in China.
China has over 21 million Muslims of which half are Uygurs.
They are of Turkik origin who lived in Xinjiang province which has witnessed widespread violent attacks in the last few years.
The Uygurs are restive over the large-scale settlements of Hans from other provinces.
China says that most domestic acts of terrorism were planned and perpetrated by East Turkestan Islamic Movement, an Al Qaeda backed militant outfit fighting for separation of Xinjiang from China.
Besides Uygurs, China has substantial population of Madarin speaking Hui Muslims who are natives of Ningxia province.
The Hui Muslim community is stated to be the most peaceful.