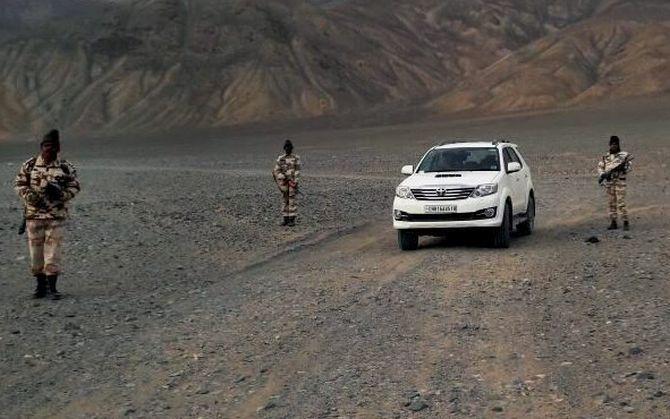 Expensive Sports Utility Vehicles, usually found zipping across roads in urban locations, have for the first time been deployed at high-altitude border posts of the Indo Tibetan Border Police Force along the Sino-India border to transport troopers.
Four white-coloured SUVs, two Toyota Fortuner and as many Ford Endeavour, with a price tag of around Rs 25 lakh each, have been deployed by the border guarding force at some of its forward locations over 13,000 ft above the sea level at Burtse and Dungti in the Ladakh sector and Menchuka, over 6,000 ft, in Arunachal Pradesh.
No other border guarding force or army formations in forward areas have ever used high-end SUVs for troops. The ITBP headquarters has issued a directive that the troopers and officers will use these vehicles only for operational tasks to prevent their misuse.
ITBP Director General Krishna Chaudhary said while the force has several types of four-wheelers, including those with 4x4 drive facility for high-altitude driving at its border locations, SUV platforms, which are powered by diesel-run heavy-duty engines were required for quick movement in these mountainous areas.
"We were looking for some good high-power vehicles at those heights where regular vehicles are not as adept as an SUV. The ministry of home affairs sometime back approved our proposal and we purchased four such four-wheelers in the first batch.
"I can tell you that none of the senior officers in the force including me have such smart and powerful vehicles for their movement as compared to what our men have now," he said.
In order to make sure they are utilised for the task they have been sent for, the ITBP boss said, strict instructions have been issued that these vehicles will carry troops while on duty and during patrol, officers can utilise them only when leading such tasks, in order to prevent their misuse.
"It's not that my men will misuse the asset but what has to be ensured and kept in mind is that these vehicles have been sent for a special purpose and there should be no
dilution in that task," he added.
The force, before deploying these SUVs at border posts, trained a special batch of drivers at the ITBP training centre in Chandigarh, after which they were driven uphill, to their places of deployment.
The interiors of the SUVs, a senior official said, have been slightly modified to fix radio communication sets and to seat 6-7 troops with their firearms.
The force is tasked with guarding the 3,488 km Sino-India border. Its posts are in some of the harshest areas with locations ranging from 9,000 ft to 18,000 ft where mercury often plunges below zero degree Celsius.
Photograph: PTI
© Copyright 2020 PTI. All rights reserved. Republication or redistribution of PTI content, including by framing or similar means, is expressly prohibited without the prior written consent.