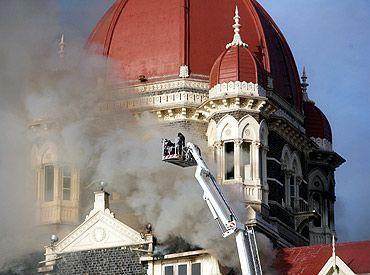 A Pakistani judicial commission's visit to India to cross-examine witnesses of the Mumbai terror attacks has been delayed because of the 10-day Ganesh Chaturthi festival, a defence lawyer said on Tuesday.
"The Indian government informed us that the visit (planned for) tomorrow (Wednesday) cannot take place due to Ganesh Chaturthi as the courts (in Mumbai) are closed," lawyer Riaz Akram Cheema said.
"They will propose to the Pakistan government new dates in a week," Cheema, part of the team of lawyers defending the seven Pakistani accused, told PTI.
The crucial visit has been delayed twice this month. While India had given a date for early September, the team could not leave due to the cancellation of a Pakistan International Airlines flight. The visit was then fixed for September 7 but it was again cancelled due to the non-availability of a flight.
Asked about the development, Special Public Prosecutor Chaudhury Mohammed Azhar told PTI, "I am yet to hear from officials about any change in plans about the visit slated for tomorrow (Wednesday)."
Cheema said Pakistani authorities had not yet taken their passports to prepare travel documents like visas.
The visit to India to cross-examine four witnesses is being undertaken to take forward the prosecution of the seven suspects, including Lashkar-e-Tayiba commander Zakiur Rehman Lakhvi.
The witnesses are the magistrate who recorded LeT member Ajmal Kasab's confessional statement, the chief investigating officer and two doctors who conducted the autopsy of the terrorists involved in the Mumbai attacks in November 2008. This will be the panel's second visit to India.
A report submitted by the commission after its first visit in March 2012 was rejected by an anti-terrorism court as the panel's members were not allowed to cross-examine witnesses. The next hearing in the Mumbai attacks case in Pakistan is scheduled for September 18.