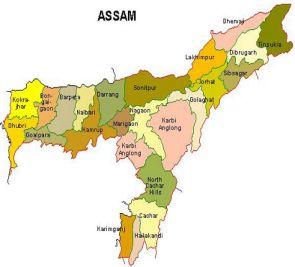 An umbrella organization of several ethnic groups has decided to launch an agitation opposing the statehood demands raised by a number of ethnic groups in Assam. including Bodos, Karbis and Koch-Rajbongshis.

The Sanmilita Janagosthiya Sangram Samiti has announced a series of agitation programmes against the demands for further division of Assam as raised by several ethnic groups 'to suit the game plan of Delhi rulers'.

The SJSS will start its agitation programme by holding a mass convention on August 25 in Guwahati.

SJSS chief convenor Brajen Mahanta informed that the outfit would undertake a 15-
day awareness programme in four districts of Bodoland Territorial Autonomous District Council areas from September 1 to make people understand that there was no justification behind the demand for a separate Bodoland State.

The SJSS will organise four mass rallies in the four BTC districts of Kokrajhar, Udalguri, Chirang and Baksa and distribute about one lakh leaflets besides talking to people with an objective to make them understand how unjustified is the demand for a separate Bodoland state.

The SJSS will organise a Delhi march on in October to demand for review of the Bodoland Territorial Council Accord of 1993 and resolution of the autonomy issues raised by the ethnic groups of the State on the basis of the recommendations of Bhupinder Singh Committee that
was constituted by the central government.
It was on the basis of the BTC Accord, the present autonomous territorial council was granted to Bodos in response to their statehood movement then.
Opposing further division of Assam, the SJSS chief convenor said that the people of the Assam would not bow down to the pressure tactics of the divisive forces this time and claimed that the history and other factors in proposed Telangana and Bodo-dominated areas of Assam hardly matched.
Meanwhile, a delegation of seven opposition political parties in Assam met Assam Governor J B Patnaik and submitted a memorandum demanding halt to any move aimed at further division of Assam in the wake of renewed statehood movements launched by several ethnic groups in the State.
Regional Asom Gana Parishad, Nationalist Congress Party, Communist Party of India, Communist Party of India-Marxist, Communist Party of India-Marxist Leninist, Samajwadi Party were part of the opposition delegation that called on the Governor.
The ruling Congress has already stated that it was not for further division of the state and believed in living together as a joint family comprising all the communities