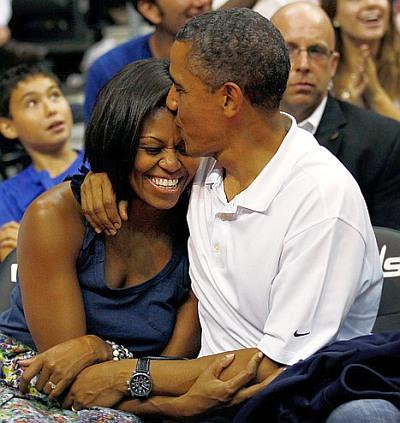 A movie about the US President Barack Obama and First Lady Michelle Obama is in the works.
Southside with You will focus on the couple's romance, particularly the summer 1989 afternoon when he wooed her into a first date across Chicago's South Side, reported Deadline.
The Homegrown Pictures production already cast Get on Up actress Tika Sumpter to play young Michelle while search is still on to find an actor to play young Barack.
The film highlights the day Michelle agreed to visit Chicago's Art Institute, took a stroll and watched a showing of Spike Lee's Do the Right Thing with Barack.
In 1989, Michelle was working at a law firm as an adviser to a summer associate from Harvard Law, Barack. He fell for her and braved himself to ask her out on a date.
"We clicked right away... by the end of the date it was over... I was sold," Michelle recalled.
The couple got married on October 3, 1992 after three years of dating.
Richard Tanne will be directing the indie flick using the screenplay that he wrote. Tracey Bing and Stephanie Allain are producing.
"Stephanie and I are excited to produce this smart and timeless film that sheds light on one of the great love stories of our time," said Bing.
"Richard really captures the essence of that romantic connection between Barack and Michelle that is so evident in the way that they look at each other. We are looking forward to finding the perfect Barack."
Filming is scheduled to begin in July on location in Chicago.