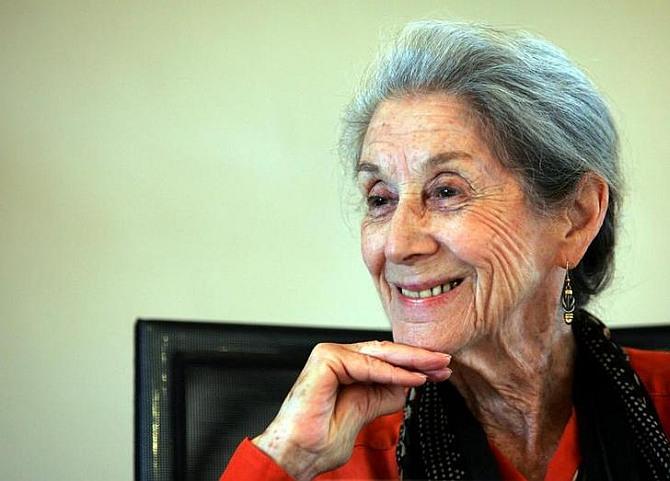 Nobel prize-winning author Nadine Gordimer took her last breath at her home in Johannesburg. She was 90.
The South African writer, who was known for strong voice against apartheid, died following a short illness.
Gordimer, who had more than 30 books to her credit, had jointly won the Booker Prize in 1974 for The Conservationist.

She was honoured with the Nobel Prize for Literature in 1991, where the committee had mentioned her work "magnificent epic writing" which had been of "great benefit to humanity."
The author's work and association with African National Congress had made her close friends of Nelson Mandela, for whom she even edited his famous 'I Am Prepared To Die' speech for his 1962 trial.
The Nelson Mandela Foundation and the ANC paid tribute and "heartfelt condolences" to Gordimer's family, saying that they lost a great writer, and a patriot, who fought hard to bring equality in their nation.
Gordimer had published her first work Come Again Tomorrow when she was only 15, while her last novel, No Time Like the Present, was published in 2012.

The writer was also featured in 1981 BBC series 'Writers And Places'.
According to the New York Times, Gordimer's books are rich with terror: The fear of the security forces pounding on the door in the middle of the night is real, and freedom is impossible. Even the political prisoner released from jail is immediately rearrested after experiencing the briefest illusion of returning to the world.
Gordimer told little about her own life, preferring to explore the intricacies of the mind and heart in those of her characters. "It is the significance of detail wherein the truth lies," she once said.
But some critics saw in her fiction a theme of personal as well as political liberation, reflecting her struggles growing up under the possessive, controlling watch of a mother trapped in an unhappy marriage.
The author is survived by two children.