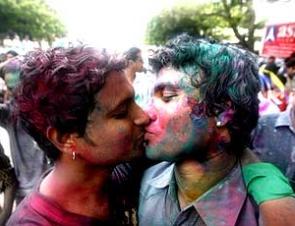 Congress President Sonia Gandhi's decision to go the whole hog against the Supreme Court's recent verdict -- upholding the constitutionality of Section 377 that criminalises homosexuality -- is not very typical of how the grand old party handles such issues.
The Congress party thrives on status quo and believes in taking the 'middle-of-the-road' approach.
It has become something of an expert in remaining non-committal on sensitive issues regarding culture, society or gender, by issuing confusing signals on them.
That's what the party did on the issue of decriminalising homosexuality till the Supreme Court took a firm stand and overturned the liberal and finely-drafted judgment of the Delhi high court.
In fact, during the hearing in Supreme Court on the validity of the Delhi HC's judgment, the home ministry, under the guidance of then home minister P Chidambaram, had opposed the high court's trend-setting verdict decriminalising Section 377.
Paragraph 22 on page 45 of the Supreme Court's Judgment (external link) on Section 377 says:
'Shri P P Malhotra, learned Additional Solicitor General, who appeared on behalf of the Ministry of Home Affairs, referred to the affidavit filed before the Delhi High Court wherein the Ministry of Home Affairs had opposed de-criminalisation of homosexuality and argued that in its 42nd Report, the Law Commission had recommended retention of Section 377 IPC because the societal disapproval thereof was very strong.
'Learned Additional Solicitor General submitted that the legislature, which represents the will of the people, has decided not to delete and it is not for the Court to import the extra-ordinary moral values and thrust the same upon the society.
'He emphasised that even after 60 years of independence, Parliament has not thought it proper to delete or amend Section 377 of the IPC and there is no warrant for the High Court to have declared the provision as ultra vires Articles 14,15 and 21 of the Constitution.'
Subsequently, in a flip-flop the government then had attorney general GE Vahanvati tell the court that the government was in agreement with high court order on Section 377. However, in typical Congress style, Malhotra's submission was not withdrawn and it stood, and has been referred to in Wednesday's Supreme Court ruling.
Now that Gandhi -- for unexplained political and personal reasons -- has taken a bold stand against the SC judgment, Chidambaram has promptly changed his track to follow his political boss.
On Thursday, the current finance minister gave several interviews to articulate his views in support of the homosexual community in India.
The Supreme Court's judgment, said Chidambaram, "is out of sync with the times."