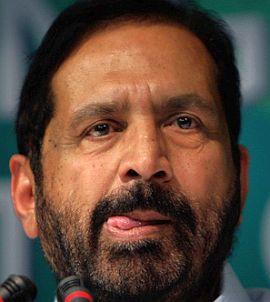 Putting up a brave face, former Member of Parliament and suspended Congress leader Suresh Kalmadi said on Saturday that he is not yet retired from politics and will become active at an appropriate time. He also said that it is too early to evaluate the performance of Prime Minister Narendra Modi's government.
Kalmadi was making his first appearance before the media after the Lok Sabha elections to announce the itinerary of the Pune Festival which was started by him 26 years ago. The period is expected to coincide with the implementation of model code of conduct for Maharashtra's assembly elections.
When asked what his role would be in the assembly elections, he said that he is suspended from the party, and therefore, has no role to play. When asked whether he was retired from politics, he said, "No, I have not yet retired from the politics. I am still in the fray."
Kalmadi also parried questions why Chief Minister Prithviraj Chavan and Deputy Chief Minister Ajit Pawar failed to secure the metro rail project for Pune while Union Minister Nitin Gadkari managed to get it started in Nagpur.
"When I was an MP, I did everything to bring the metro rail to Pune. It was me who had a meeting with then Union Urban Development Minister Kamal Nath and then Union Agriculture Minister Sharad Pawar. It is only that after this government came to power, the project has gone to Nagpur.
When asked his opinion on the Modi government's performance, he said, "It has been only three months since he came to power. Let the Bharatiya Janata Party complete one year, then we will talk."
Kalmadi also parried the question on All India Congress Committee general secretary Digvijaya Singh's statement that the Nationalist Congress Party should be merged with the Congress.
"I am with neither of them, so I will not comment," he said.