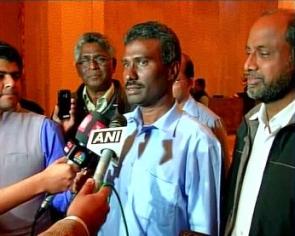 Indian Jesuit priest Father Alexis Prem Kumar, who was abducted by the Taliban in June last year, refused to talk about what happened to him in Afghanistan.
"I am not ready to talk about what happened in Afghanistan. Though I had a bad time, now I am glad to be here," said Father Alexis.
The Jesuit priest thanked the government for its efforts to secure his release, after he returned to India on Sunday.
Earlier, the external affairs ministry had confirmed his release saying that India had relentlessly pursued the matter of his release.
The 47-year-old Indian Jesuit priest, who was the head of NGO Jesuit Refugee Service, was abducted on June 2 last year from the Zendjan district in Afghanistan's Herat province.
He was visiting a project site for establishing a school for Afghan refugee children.
According to reports, JRS has been working in Afghanistan since 2005 accompanying returnees to home from exile in Iran and Pakistan.
It is learnt JRS was actively providing education and healthcare services in Afghanistan's Bamiyan, Kabul and Herat provinces.