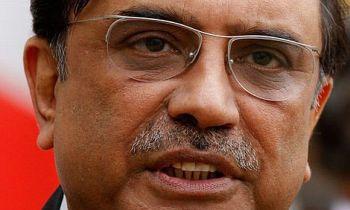 Outgoing Pakistan President Asif Ali Zardari on Saturday said he doesn't intend to become prime minister of the country as he thinks presidential slot should be an optimum position for any politician.
Zardari, co-chairman of the Pakistan's Peoples Party, will demit office on Sunday and will be replaced the following day by India-born Mamnoon Hussain, a businessman and close ally of Prime Minister Nawaz Sharif.
"I will not try to become the prime minister of Pakistan," Zardari told Geo TV.
"In my view running the party is more important than becoming prime minister".
Zardari, who was once sentenced to 11 years in jail for alleged corruption, said that as the presidency was the highest office in Pakistan it would not be appropriate for him to become prime minister.
When asked whether he learnt some lessons during his imprisonment, Zardari said, "I learnt patience during my 11-year solitary confinement as jail starts to test your nerves after two initial years in detention".
He said he used to watch foreign TV channels during his imprisonment to keep him up to date as well as writing his thoughts.
He said that the letters and poetry he had written to his slain wife Benazir Bhutto were now in possession of his children.
Image: Outgoing Pakistan President Asif Ali Zardari