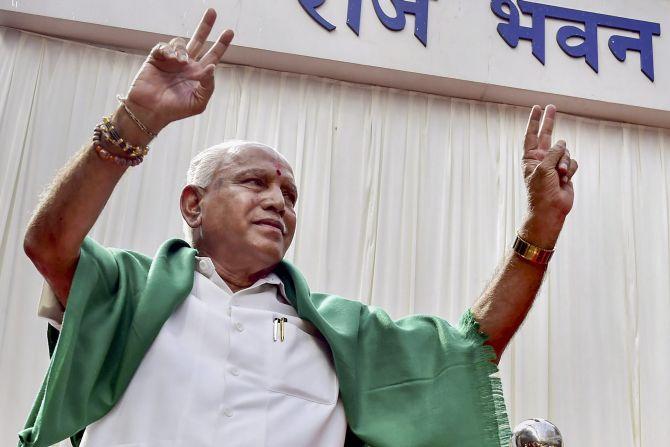 Newly sworn-in Karnataka Chief Minister B S Yeddyurappa on Thursday said he was '100 per cent sure' of winning the vote of confidence in the assembly and completing the five-year term.
He slammed the Congress-Janata Dal (Secular) alliance as 'unholy' and charged they were out to grab power though the people had 'rejected them outright'.
"I am sure of winning the vote of confidence and my government completing five years," said Yeddyurappa, who has been given 15-days window by Governor Vajubhai Vala in a controversial decision that has been challenged in the Supreme Court.
Asked how soon he would prove majority, Yeddyurappa said he would do it as soon as possible.
"I am not going to wait till 15 days... I am keen to do it as soon as possible," he said.
He was addressing his first press conference soon after taking the oath following an overnight legal battle in the Supreme Court where the Congress-JD(S) combine made a desperate push to stall the government formation.
Yeddyurappa also appealed to the legislators to vote according to their 'conscience' and uphold the people's mandate.
"I seek support of all legislators and I ask them to vote for me by exercising their conscience just as Indira Gandhi did in a Presidential election," he said.
He was referring to the 1969 presidential election, when the then prime minister Gandhi had called for 'conscience vote' to independent V V Giri backed by her.
Giri had defeated official Congress nominee Neelam Sanjiva Reddy.
"I am 100 per cent sure of the success," Yeddyurappa said, striking a confident note on emerging victorious in the trial of strength in the assembly.
"I have people's support for me and my party," said Yeddyurappa, who has now a tough task to muster the numbers to reach the half mark of 112.
The BJP has emerged as the single largest party with 104 seats in the May 12 elections which threw up a hung assembly.
Yeddyurappa also said he was committed to fulfilling the BJP's promise in its poll manifesto that loans of farmers and weavers up to Rs 1 lakh availed from nationalised and cooperative banks would be waived.