A day after daring the Punjab police to arrest him, radical preacher Amritpal Singh surfaced in a fresh video on Thursday, asserting he was not a fugitive and would soon appear before the world.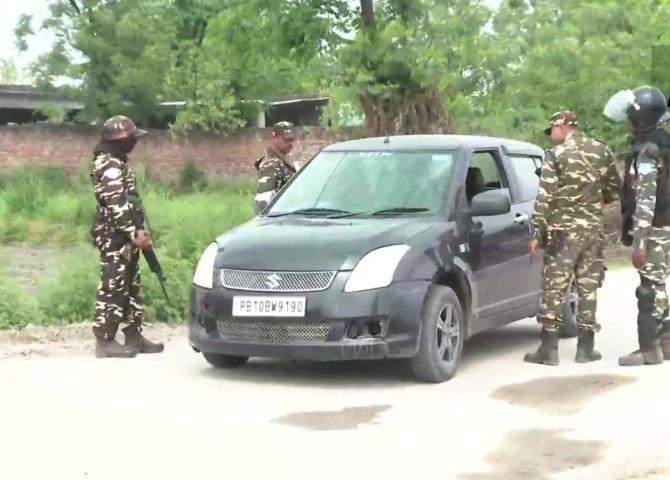 The purported video surfaced hours after his audio clip came out on social media in which he debunked speculation he was negotiating his surrender.
"Those who feel that I have turned fugitive and I have left my associates, they should not keep this illusion in their mind. I do not fear death," he said in the video in Punjabi.
"And soon will appear before the world and will also be amongst the 'sangat'," he said.
The police have stepped up security in and around Amritsar and Bathinda amid reports that Amritpal Singh may surrender after entering any of the two Sikh shrines -- Golden Temple in Amritsar or Takht Sri Damdama Sahib in Bathinda.
The pro-Khalistan preacher said he was not like those who would flee the country.
"One has to face a lot during the days of rebellion. These days of rebellion are difficult to pass," he said.
It was his second video since being on the run amid a police crackdown on his outfit 'Waris Punjab De'.
The police action began on March 18, weeks after Amritpal Singh's supporters stormed a police station in Ajnala, near Amritsar, to secure the release of one of his associates. The preacher escaped the police net in Jalandhar district by switching vehicles and changing appearances multiple times.
In the first video, which appeared on social media on Wednesday, he asked the jathedar of Akal Takht, the highest temporal body of Sikhs, to summon a congregation to discuss issues concerning the community.
He and his associates have been booked under several criminal cases related to spreading disharmony among classes, attempt to murder, attack on police personnel and creating obstructions in the lawful discharge of duty by public servants.
Earlier in the day, in an audio clip he debunked speculation that he was negotiating his surrender and nudged the Akal Takht again to summon a "sarbat Khalsa" congregation.
"I have urged the jathedar to call the sarbat khalsa. Call the sarbat khalsa, and prove that you are the jathedar," he said in the new audio clip.
Piling pressure on the Sikh body, he said, "If we are going to play politics even today, doing the same things we used to do earlier, then what's the point of being a jathedar in the future," he said in Punjabi.
"We should understand that today is the time for the entire community to come together,'' he added, calling for "unity" among Sikh bodies.