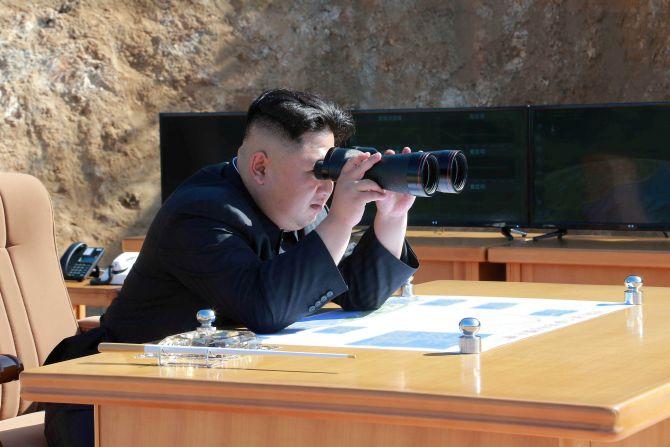 North Korea on Tuesday morning launched a ballistic missile which has reportedly passed over Japan.
The missile broke into three pieces and fell 1,180 kilometers from Cape Erimo into the waters off Hokkaido.
It travelled around 2,700 kilometres (1,700 miles) at a maximum altitude of around 550 kilometres, the Pentagon said.
In the wake of recovery of remains of the parts of missiles, the Japanese government warned the people in northern Japan to prepare for a potential incoming missile from Pyongyang, reported the Suptnik quoting local news channel.
This has been confirmed by the South Korean Joint Chiefs of Staff, who said that the ballistic missile was fired from near Pyongyang.
No damage or injury has been reported till now.
The United States confirmed that North Korea fired a missile which flew over Japan on Tuesday.
'We assess North Korea conducted a missile launch within the last 90 minutes. We can confirm that the missile launched by North Korea flew over Japan. We are still in the process of assessing this launch,' Pentagon spokesperson Col Rob Manning said in a statement.
He said the North American Aerospace Defence Command (NORAD) determined that the missile launch from North Korea did not pose a threat to North America.
'We are working closely with the Pacific Command, the Strategic Command and the NORAD, and will provide an update as soon as possible,' he said.
Tokyo said the missile flew over its territory, with Prime Minister Shinzo Abe saying the government would take 'full steps' to ensure the safety of the Japanese people.
No North Korean missile had flown over Japan for years, and the launch came after a strained period on the peninsula following Pyongyang's testing of two intercontinental ballistic missiles last month that appeared to bring much of the US mainland within reach.
It threatened to fire a salvo of missiles towards the US territory of Guam, while US President Donald Trump issued an apocalyptic warning of raining 'fire and fury' on the North, saying Washington's weapons were 'locked and loaded'.
IMAGE: North Korean leader Kim Jong-un. Photograph: KNCA/via Reuters
With ANI inputs