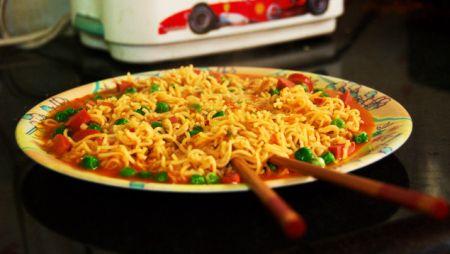 The trouble for Nestle's Maggi started in Uttar Pradesh last month and has now spread nationwide. The Food and Drug Administration has directed all states on Wednesday to get sample of India's most popular instant noodles tested for high content of lead and mono-sodium glutamate, a taste enhancer.
Union Consumer Affairs, Food and Public Distribution Minister Ram Vilas Paswan has said that the government is framing new law to deal with Maggi-like cases.
Citing the case of Maggi noodles that contained high level of lead and monosodium glutamate, he said that stringent legal provision would be applied. He said that no leniency would be shown against those indulging in manufacture and promotion of sale of life-saving items and harmful food products.
The Bharatiya Janata Party on Wednesday said the samples of Maggi have been collected in few states and added that necessary action would be taken in the case. "Quite a few governments have already started initiating action. The samples are being collected in various states. Union Minister has also spoken about this issue and wherever any action is required, it will be taken," said BJP spokesperson Nalin Kohli.
A day after it found samples of Maggi noodles "unsafe" for consumption, Delhi government deliberated on the issue with Nestle India, the manufacturer of the instant noodles.
Delhi Health Minister Satyendar Jain met a number of officials of Nestle India and discussed finding of lead beyond the permissible level in Maggi masala (tastemaker).
The city government had on Tuesday decided to initiate a case against Nestle India after lab testing of Maggi samples, lifted from various parts of the city, was found to have lead exceeding the prescribed limits.
According to officials, a total of 13 samples of masala (tastemaker) were lifted by authorities from various areas of the city last week out of which 10 samples were found unsafe.
Five samples of masala were also having monosodium glutamate without proper label declaration which is an offence under the category of misbranding, they said.
A number of states including Kerala and Haryana have initiated steps on the Maggi issue. The probe into alleged lapses of food safety standards has already been expanded to test Maggi noodle samples from across the country following detection of monosodium glutamate and lead in excess of the prescribed limit in the noodles.
Many other states said they are now testing Maggi, including Gujarat, Maharashtra, Bihar, Punjab and Himachal Pradesh. Kerala has ordered a pullout of Maggi noodles from about 1300 government-run outlets, till there is clarity on quality.
However, The Maharashtra government said there have been no negative reports about the samples tested so far.
"We have taken some samples but we have not found any negative reports. I am in constant touch with Food and Drug Administration Commissioner Harshadeep Kamble on the issue," Food and Civil Supplies minister Girish Bapat told PTI today.
He said that around eight to 10 samples of Maggi have been tested by the government.
"Their production is batch wise and to do a detailed analysis of their product, we need to test samples from different batches, the work of which is going on. A problem can be identified once more such samples from other batches are tested," Bapat said. He said that the government will take necessary action against Nestle if something is found amiss.
However, Nestle India claimed it has got samples tested in an external laboratory as well as in-house and that the product was found "safe to eat". It has not
received any order from the central or any state FDA authority for recall of its Maggi noodles as the controversy over safety issues deepened.

With inputs from PTI and ANI