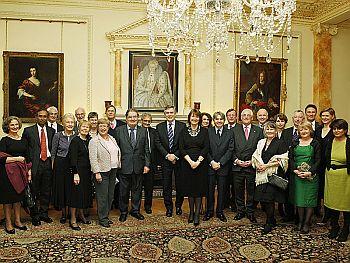 British winners of the prestigious Nobel Prize, including Indian-origin biologist Venkatraman Ramakrishnan and economist Amartya Sen, were honoured London by Premier Gordon Brown to celebrate their achievements.
Ramakrishnan was awarded the 2009 Nobel Prize for Chemistry while Sen won the same for welfare Economics in 1998. They and other Nobel Prize winners from Britain were honoured at a dinner reception hosted by Brown and his wife, Sarah Brown, at 10, Downing Street on Tuesday.
The UK ranks top in Europe in terms of the number of Nobel prizes won, and is second globally only to the US.
The Prime Minister said: "Britain was where the first novel was written, the theory of gravity was first formulated, and penicillin was first created to save millions of lives. All of you, the pride of our country, are heirs of that legacy who have nobly enlarged it. You stand on mountaintops of our time, of human aspiration and achievement," he said.

Other guests at the event included former Northern Ireland politicians John Hume and Lord Trimble, who shared the 1998 Nobel Peace Prize.
Also present were Sir Tim Hunt, winner of the 2001 Nobel Prize in Physiology, Sir Martin Evans, Winner of the Nobel Prize for Medicine 2007, and Sir John E Walker, who won the Nobel Prize in Chemistry 1997.
The UK produces 9 per cent of the world's scientific papers and has a citation share of 12 per cent, second only to the US.
In recent years, the UK has consolidated its position as Europe's top R&D location. It is the number one recipient in Europe for R&D investment. The UK has created one in four of the world's top 100 medicines.
Ramakrishnan, a structural biologist at the MRC Laboratory of Molecular Biology in Cambridge received the 2009 Nobel Prize in Chemistry, while Sen won the 1998 Nobel Memorial Prize in Economic Sciences for his work on welfare economics.
The UK has 170 universities and higher education institutes, producing more than 300,000 graduates, over 100,000 Masters graduates and 125,000 Doctoral postgraduates each year.

Image: British PM Brown with Nobel laureates