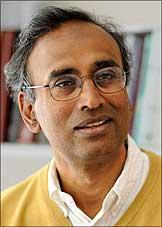 Nobel laureate Venkataraman Ramakrishnan said on Monday that he was "honoured and touched" by the Padma Vibhushan award bestowed on him by the Indian government.
"I am honored and touched that the country of my birth has chosen to recognise our work with this award," Ramakrishnan said.
Ramakrishnan, who was awarded the Nobel Prize for Chemistry last year, was chosen for the Padma Vibhushan award announced on the eve of the country's 60th Republic Day celebrations in New Delhi.
Chidambaram-born Ramakrishnan, a senior scientist at the MRC Laboratory of Molecular Biology at Cambridge, shared the Nobel Prize with Thomas A Steitz and Ada E Yonath for mapping ribosomes, the protein-producing factories within cells, at the atomic level.
Image: Dr Venkataraman Ramakrishnan