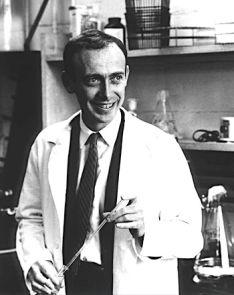 A 1962 Nobel Prize medal won by biologist James Watson for the discovery of the structure of DNA has fetched more than $4.7 million (Rs 29 crore), setting a world record for any Nobel Prize sold at an auction.
The medal was sold to an anonymous telephone bidder for a record-setting price of $4,757,000, marking the first time a living Nobel laureate sold his gold medal.
The amount fetched by the Nobel Prize medal at Christie's New York auction on Thursday surpassed the $2.2 million (Rs 13 crore) that was paid last year for the medal once owned by Watson's late colleague, Francis Crick.
"The bidding opened at $1.5 million (about Rs 9 crore) and proceeded swiftly upward as a three-way battle between clients on the phone, until one bidder dropped out at the $3.8 million (Rs 23 crore) mark," said Francis Wahlgren, Christie's International Director of Books and Manuscripts.
"The remaining two phone bidders battled on in increments of $100,000 (Rs 61 lakh), until the final, record-setting price was achieved," Wahlgren said.
Two of the manuscripts that Watson prepared for the Nobel ceremonies brought in an additional $610,000 (Rs 3 crore) during the auction, Christie's said.
In 1962, the Nobel Prize in Physiology or Medicine was awarded jointly to Francis Crick, James Watson and Maurice Wilkins for their discoveries concerning the molecular structure of nucleic acids and its significance for information transfer in living material.
The 86-year-old Watson's decision to sell his Nobel comes after a he faced a financial crunch in the last few years.
Watson has made several racist and sexist comments for in the past that have gotten him shunned by both the scientific community and the general public.
Watson said that he was "inherently gloomy about the prospect of Africa" because "all our social policies are based on the fact that their intelligence is the same as ours – whereas all the testing says not really." He also said that unequal intelligence has been witnessed by people "who have to deal with black employees."
At several occasions Watson has diminished the contribution of Rosalind Franklin to the Nobel-Prize-winning work on DNA and in 2012 statement said that women aren't "as effective" at science as men.
Having become a persona-non-grata in the mainstream scientific community and in need of money, Watson decided to sell his Nobel prize.