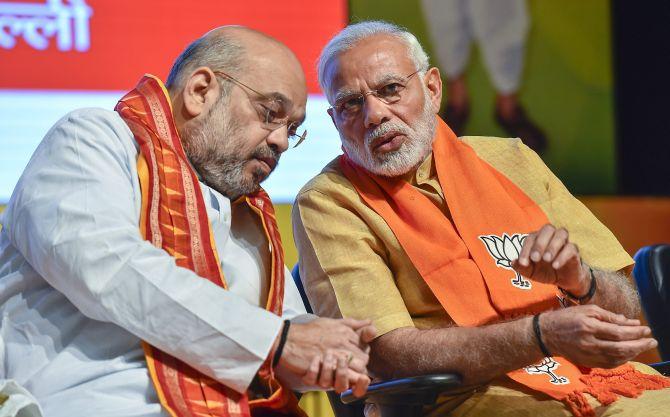 The Bharatiya Janata Party believes that the government will get the support of as many as 314 members of Parliament in the Lok Sabha, when an Opposition-sponsored no-confidence motion against the Narendra Modi dispensation would be put to vote on Friday.
According to the estimate by the party's floor managers, the government is likely to get support from small parties outside the National Democratic Alliance such as Anbumani Ramadoss-led Pattali Makkal Katchi and Raju Shetty-led Swabhimani Paksha.
Although Shetty and Ramadoss are no longer members of the NDA, but the government believes that they would support it during the vote on the motion.
Sources in the party said the Narendra Modi-led government would get the support of 314 MPs in the lower house, which has an effective strength of 535 members.
The list of the 314 MPs, however, does not include Lok Sabha Speaker Sumitra Mahajan, who is also a BJP MP, they said. The majority mark is 268.
Talking to reporters, Parliamentary Affairs Minister Ananth Kumar on Wednesday said the NDA was united and would vote against the motion.
"We are hopeful that we will get support from parties outside NDA as well. It is strange that opposition brings this motion despite the fact that the BJP got majority on its own and today NDA is ruling in 21 states," he said.
Kumar said the party has also issued a whip to its Lok Sabha members for two days and asked them to be present in the House.
In a House of 535 members, the ruling NDA has 313 members in the Lok Sabha, including 274 (including the Speaker) of BJP, 18 of Shiv Sena, six Lok Janshakti Party and four Shiromani Akali Dal.
The stated strength of the Opposition is 222, including 63 of the Congress-led United Progressive Alliance, 37 of All India Anna Dravida Munnetra Kazhagam, 34 of Trinamool Congress, 20 Biju Janata Dal, 16 Telugu Desam Party and 11 Telangana Rashtra Samiti.
Lok Sabha Speaker Sumitra Mahajan on Wednesday announced that the House would take up the debate (on the no-confidence motion) moved by many opposition parties on issues like special status to Andhra Pradesh, cow vigilantism, lynching, atrocities against women and Dalits and alleged dilution of the SC/ST Act, on July 20.
"The discussion will be held for the full day, followed by voting on it," she said, adding that there would be no Question Hour on that day.
Mahajan had not accepted notices for a similar motion during the budget session, which was washed out due to continued uproar by TDP, TRS and some opposition parties.
The motion was rejected by the Speaker on the ground that the House was not in order as there were continuous protests in the Well by opposition members on various issues.
© Copyright 2021 PTI. All rights reserved. Republication or redistribution of PTI content, including by framing or similar means, is expressly prohibited without the prior written consent.