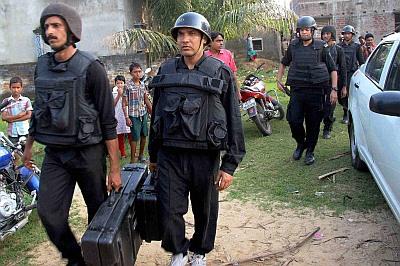 Exactly a month after the Burdwan blast in which two suspected terrorists were killed, the National Investigation Agency appears to have made no substantial headway.
After an initial head start by the central intelligence agency post October two blast inside a house at Khagragarh locality of Burdwan district, a majority of the accused are still on the run after managing to give a slip first to West Bengal police and later to NIA sleuths.
Sources privy to the investigation said no substantial evidence has emerged so far to give any clue about the exact plans of the terror group -- Jamaat-ul-Mujahideen Bangladesh.
The JMB was stated to be working on a plot to target Bangladesh government leaders.
The main accused, Sajid, who is believed to be the brain behind the Burdwan module, is understood to have managed to give a slip to West Bengal police.
On October 2, the blast took place inside a house at Khagragarh in which one person Shakil Ahmed died on the spot and another person Sovan Mandal died in hospital. They both were suspected to have terror links.
Another person -- Hasan Saheb -- who was also injured in the blast later gave some information to the sleuths of central intelligence agencies that led to arrest of two women, including wife of one of the dead men and six people from Assam, the sources said.
However, after initial help in the arrests, neither the state police nor the NIA could make any headway in the case with instances of alleged failure in nabbing some of the accused, the sources said.
The NIA, which was being assisted by the state police was unable to prepare sketches of either Sajid and another suspected Bangladeshi national Nasirullah who is also believed to have managed to escape the clutches of investigators.
Only two people arrested from Assam could give some information about the incident which included claims that Improvised Explosive Devices (IEDs) could have been smuggled into the neighbouring Bangladesh. However, the two could not provide any information about how explosives were transported.
The functioning of madrassas (religious school) in West Bengal was entrusted to Kausar, one of the accused, to conduct a week's training out of which three days were spent on religious teachings, two days for non-combat training and two days for firing practice in which air guns were used.
The IEDs seized so far were flawed with no detonators or timers attached to it, the sources said.
Another apparent goof up was despite information being shared with state police about Kausar he managed to flee from the blast area even after four days of the incident.
The central security agencies, which has been piecing together the puzzle, has handed over a list of accused wanted for the case.
NIA has already announced a cash reward on any information leading to the arrest of these accused. Besides Sajid, Nasirullah and Kausar, cash rewards have been announced for Talha Sheikh and Maulana Yusuf Sheikh, Amjad Ali Sheikh, Habibur Rahman Sheikh, Sahanur Alom, Abdul Kalam, Burhan Sheikh, Rejaul Karim and Jahirul Shaikh.
The interrogation reports of Razira Biwi, Alina Biwi and Badrul Aalam were tasked only for selecting hideouts, fabricating IEDs besides identifying, recruiting and indoctrinating possible cadres for the outfit from various madrasas, the sources said.
The arrested people also reportedly told interrogators that plans were afoot to create a terror network in West Bengal and Assam to build an Islamic state in Bangladesh as well as in the three West Bengal districts -- Murshidabad, Nadia, Malda -- through armed struggle.
© Copyright 2022 PTI. All rights reserved. Republication or redistribution of PTI content, including by framing or similar means, is expressly prohibited without the prior written consent.