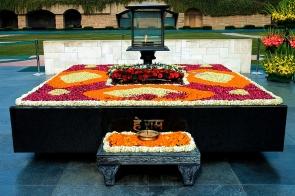 There will be no separate samadhis for VVIPs in Delhi as the government on Thursday decided to have a common complex for memorials of departed national leaders like presidents, vice presidents and prime ministers.
The Union Cabinet cleared a proposal to set up the 'Rashtriya Smriti' along the Yamuna river in central Delhi in view of the paucity of space as nearly 245 acres of prime land in the national capital has already been occupied by separate samadhis of former leaders like Mahatma Gandhi, Jawaharlal Nehru, Indira Gandhi and Rajiv Gandhi.
'Rashtriya Smriti' near the Ekta Sthal, the samadhi of former President Giani Zail Singh, has now been earmarked for performing last rites of departed national leaders in the future and for setting up their memorials, besides space for public gatherings.
In the past, separate memorials for departed national leaders were created near Rajghat.
The proposal for a common memorial ground had first been mooted in 2000 but it was pending. "Henceforth, the government shall not develop any samadhi for departed leaders," the proposal had said.
The VVIP memorials of nation's political leaders occupy around 245 acres of prime land along the banks of Yamuna.
Raj Ghat, built in memory of Mahatma Gandhi, measures 44.35 acres on the western bank of the Yamuna in Delhi. The memorial is a simple square stone platform in black marble.
Shanti Van -- the Garden of Peace -- is the samadhi of India's first prime minister Jawahar Lal Nehru and occupies 52.6 acres. It has a large plinth covered with a lawn.
Vijay Ghat --Victory Platform -- is the samadhi of former prime minister Lal Bahadur Shastri. It occupies nearly 40 acres of land. The victory alluded to in the name of the memorial is India's performance under his leadership in the Indo-Pakistan War of 1965.
Shakti Sthal - Place of Power -- is the samadhi of Indira Gandhi. Spread over 45 acres, the samadhi has a huge greyish-red monolithic stone in the memory of India's first and only woman prime minister.
Former prime minister Rajiv Gandhi's samadhi Veer Bhumi is spread out over 15 acres, while Kisan Ghat of former prime minister Charan Singh occupies 19 acres.
Ekta Sthal -- Place of Unity -- in memory of Giani Zail Singh occupies 22.56 acres.
Samata Sthal in memory of former deputy prime minister Jagjivan Ram has come up in an area of 12.50 acres.
There are some other earmarked areas also for Karma Bhumi in memory of former President Shankar Dayal Sharma, Smriti Sthal in memory of former prime minister Chandrashekhar and Uday Bhumi in memory of former President K R Narayanan.
There is Sangharsh Sthal, the samadhi of former deputy prime minister Devi Lal, besides the samadhi of former presidents R Venkataraman and the Mazar of Maulana Abdul Kalam Azad.
The samadhi of Sanjay Gandhi, the deceased son of Indira Gandhi, is also built next to Shanti Van.