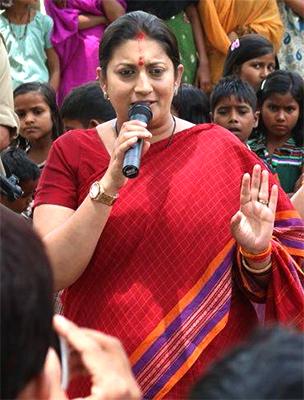 Human Resource Development Minister Smriti Irani on Monday dismissed as "baseless and inaccurate" a media report suggesting that schools would remain open on December 25 to observer 'good governance day'.
"It is unfortunate that misreporting has been deliberately done...controversy has been created to grab headlines. December 25 is Christmas and will be celebrated like that and schools will be shut," she told reporters outside Parliament.
She said her ministry would be releasing a statement shortly on the matter as the report is "baseless and inaccurate".
The intention is to make me keep on giving explanations on this, she said.
Irani said the essay competition that the schools including Central government-run Jawahar Navodaya Vidyalays would be organising would be "voluntary" and conducted online.
"All schools closed for X'Mas, essay competition only online," she tweeted separately. "Deliberate mischief by ur reporter on the front page today. If truth is a virtue u cherish can I c a retraction tomorrow (on Tuesday) on the front page in bold," she added.
A circular issued by Navodaya Vidyalaya Samiti had last week stated that former prime minister Atal Bihari Vajpayee's birthday will be celebrated as 'good governance day' and asked all the JNVs to "ensure" celebration of the day.
It said CBSE would also be organising competitions under the CBSE expression series on good governance on December 24 and 25 and it was open to all schools under the Board.
As part of the competition, open to schools from Std I to V, VI to VIII and IX and XII, entries in the form of essays/one-act-plays in 22 schedule languages and English can be submitted on December 24 and 25 online and offline (links will be provided). "The circular also said screening of documentaries and films on best practices in good governance and organisation of various activities through child cabinets in schools would be organised."
Congress member K C Venugopal raised the issue of the reported government directive of keeping schools open on Christmas Day to observe 'Good Governance Day' to mark the birthday of former Prime Minister Atal Bihari Vajpayee on December 25 in Parliament.
Venugopal said schools have been asked to remain open on Christmas Day on the pretext of essay competition.
"Asking schools to remain open on Christmas is hurting the sentiments of the minorities. We are a secular democratic country. Is this good governance? Celebrating Vajpayee's birthday is good but Vajpayee would not approve this," he said.
He was supported by party colleagues and Left members who shouted, "We want a clarification from the government."
All India Anna Dravida Munnetra Kazhagam members were also on their feet demanding explanation from the government, as the House witnessed heated exchanges between members of the opposition and treasury benches.
Congress and Left members then trooped into the Well and in the din, the Speaker adjourned the House for almost an hour.
Parliamentary Affairs Minister M Venkaiah Naidu said HRD Minister Smriti Irani and the HRD Secretary have informed him that there is no CBSE circular asking schools to remain open on Christmas Day.
Students of residential schools, which would be open, were free to participate in the essay competition on December 24.
"It is voluntary in nature. It is not mandatory. There is no question of using force," he told the Lower House.
Image: Human Resource Development Minister Smriti Irani