The former Naval chief said that the idea of nationalism is not restricted only to the military and its men and that booking students under such a law was 'ridiculous'.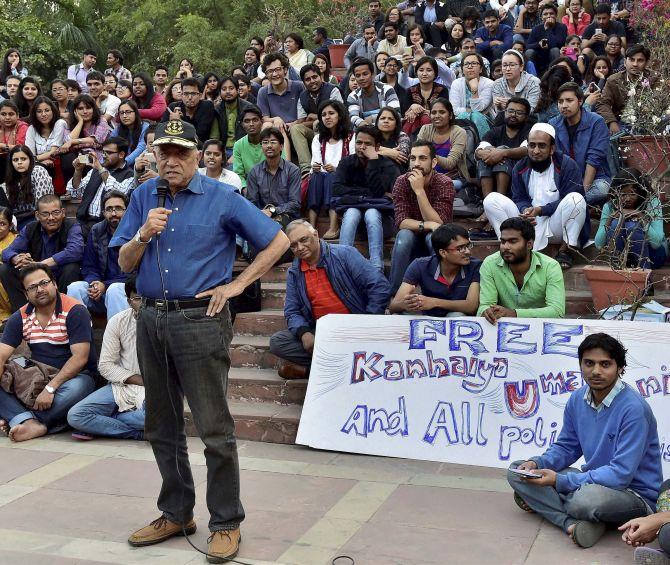 The slapping of sedition charges on Jawaharlal Nehru University students for holding an event is "ridiculous" and there is no room for any such law in a democratic country, former Navy chief Admiral (Retired) Lakshminarayan Ramdas said on Saturday.
Ramdas who was addressing the JNU students during a lecture titled "De-militarisation of nationalism", said, "they are all doctored videos. Even if anti-national slogans were raised did anybody verify who shouted them. Booking random students for sedition is ridiculous. There is no room for any such law in a democratic country".
Ramdas who visited the campus to express solidarity with the three arrested students -- Kanhaiya Kumar, Umar Khalid and Anirban Bhattacharya, said, "No nation can be strong just by posing its military might, nation is built of its people".
"The security agencies and government should first see if the case is worth filing sedition. The idea of nationalism is not restricted only to the military and its men, in fact it is a much broader term.
"Nationalism is a 17th century thing which started in Europe and we are still applying it in the 21st century. Moreover, it is an idea that should be boundary less, not restricted to only a few people," he added.
Three days ago, some ex-servicemen including retired Major General G D Bakshi had come to the university to meet the administration including the vice chancellor and registrar and had suggested that an army tank be put up on the campus to instil nationalism in students.
To this, the registrar had responded saying that the administration is mulling over the idea of having a martyr nwall and displaying such "nationalism symbols" on campus.
During the open-air lecture, Colonel (retd) Lakshmeswar Mishra also echoed Ramdas's idea of demilitarisation of nationalism.
"The patriotism that armymen talk about, a vast majority of people have the right to question it. There are many problems in the army as well but these things never come out. It is only when a soldier dies that our country makes a scene out of it. They do not care about what that soldier's family goes through," says Mishra who is also a Communist Party of India-Marxist–Leninist.
"Above 100 jawans commit suicide in a year. According to an estimate, 30-40 people want to kill themselves but somehow they get saved. The death due to terror activities is lesser than suicides. At army hospital, a sizeable number of jawans are admitted in psycho wards. All these are the problems that are never discussed," he added.
Jawaharlal Nehru University is caught in a row over an event in the campus to commemorate the hanging of Parliament attack convict Afzal Guru, where "anti-national" slogans were allegedly raised. Three students including the varsity students union president are in custody in a sedition case over the event.
Image: Admiral (Retd) Ramdas addresses students agitating for the release of Kanhaiya Kumar and other students charged with sedition on campus. Photograph: Kamal Kishore/PTI