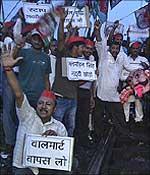 Criticising the nationwide agitation against FDI reforms, the government on Thursday blamed the parties behind the protest for causing economic losses and made it clear that there will be no backtracking on the reforms as the country needs "massive" growth.
Senior ministers maintained that there was no threat to the stability of the government even if the Trinamool Congress quits on Friday and hinted at scouting for new allies.
They insisted that the strike organised by eight non-United Progressive Alliance parties as well as the National Democratic Alliance has had no impact except for causing economic losses.
"The net effect of this strike is greater economic loss. When you protest, you should not protest in a manner that causes economic losses," Finance Minister P Chidambaram said.
Information and Broadcasting Minister Ambika Soni said that while limited protest was alright, it should not be to an extent that "cause harm" to the interest of people.
Making it clear that the government would not go back on its decisions, Law Minister Salman Khurshid said, "We have tried to bring reforms with a human face. Please don't ask whether we are going to change the human face. The human face remains."
He said the government was pushing reforms to give "massive" economic growth to the country and "if opposition slows that down, we won't get it by what they have done today."
On the strike, he said the parties have "given their point of view, they have shown their protest, now let us go back to our factories, get back to our shops, get back to our schools and get back to our work."
On the stability aspect, Chidambaram said, "We have enough friends today, we had enough friends yesterday... so I don't see any reason why you should doubt our stability."
Asked whether the government would look for new allies, Chidambaram said, "If we can acquire new friends, why would we not acquire new friends?"
Soni said the government was stable as it has the support of over 300 members in the 545-member Lok Sabha.
"We have support of over 300 members of Parliament who do realise that these are difficult times and know that hard decisions need to be taken," she said, rejecting the perception that the government had been reduced to a minority.
Chidambaram hit out at the strike, saying it had causes economic losses and hurt wage earners.
"In democracy, we respect the opposition's rights to demonstrate against government's decision. But you are protesting and demonstrating against the decision of the government concerning the economy," the finance minister said.
He said it was "ironic" that the form of the protest adopted had caused "great economic losses" as wage earners could not earn their wages and factories could not carry out their operations.
"In some factories, wage would have to be paid but there will be no production. So the net effect is great economic loss," Chidambaram said, adding "I think when you are protesting a decision concerning the economy, you should not protest in a manner that causes economic loss."