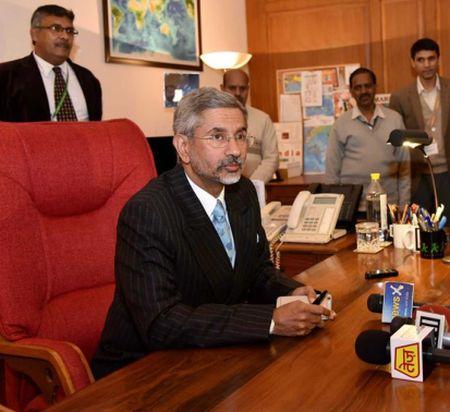 India and China should approach each other with 'strategic maturity', Foreign Secretary S Jaishankar said on Tuesday while expressing confidence that the two countries will be able to handle the Sikkim standoff as they have dealt with such border differences in the past.
"It is a long border, as you know no part of the border has been agreed upon on the ground. It is likely that from time to time there are differences," Jaishankar said while responding to questions on the standoff between Indian and Chinese troops in the Doka La area of the Sikkim sector after delivering a lecture on 'India, ASEAN and Changing Geopolitics'.
Underlining that this was not the first time that China and India have had border differences, Jaishankar said, "When such situations arise, I see no reason, when having handled so many situations in the past, we would not be able to handle it."
"This is not to suggest that old problems have been all addressed or that new issues will not arise. India has an alarming trade deficit that in our view emanates from obstacles to market access in China," Jaishankar said.
Jaishankar, while talking of Sino-India ties during the lecture organised by the Lee Kuan Yew School of Public Policy and the Indian High Commission, said negotiations on the long-standing boundary dispute still continue.
"Differences on issues like terrorism, nuclear energy access and connectivity initiatives have also acquired some prominence," he said, referring to the disagreements with China over Beijing's blocking of efforts to get Jaish-e-Mohhamed chief Masood Azhar banned by the United Nations, denying India entry into the Nuclear Suppliers Group and the China-Pakistan Economic Corridor project which New Delhi is opposed to as it passes through Pakistan-occupied Kashmir (PoK).
Noting that the India-China relations are multi-faceted, Jaishanakar highlighted that last month when the leaders of the two countries met at Astana, Kazkhstan, they reached consensus on two key points: that at a time of global uncertainty, India-China relations are a factor of stability, and in their relationship, India and China must not allow differences to become disputes.
"This consensus underlines the strategic maturity with which the two countries must continue to approach each other," he said.
China and India have been engaged in a standoff in the Doka La area near the Bhutan tri-junction for over three weeks after a Chinese Army's construction party attempted to build a road.
Doka La is the Indian name for the region which Bhutan recognises as Dokalam, while China claims it as part of its Donglang region.
Of the 3,488-km-long India-China border from Jammu and Kashmir to Arunachal Pradesh, a 220-km section falls in Sikkim.
In his lecture, Jaishankar also pointed out that 'in this changing landscape, few would dispute that the evolving India-China relationship has a direct implication for ASEAN, for the larger Asia Pacific, and perhaps even globally'.
"We are all aware by now of the complexity inherent in the rise of two major powers near simultaneously, that too in close proximity. That the powers in question are civilisational ones, with positive far history and difficult near history, adds to the challenge," he said.
Jaishankar said that the 'big debate' is about the opportunities and risks that emanate from this twin rise.
Skewing the analysis in the direction of one at the expense of the other could be misleading, he asserted.
"In truth, the India-China relationship by now has acquired so many dimensions and so much substance that reducing it to black and white argumentation cannot be a serious proposition," he said.
Jaishankar stressed that it was not only that India and China have stakes in each other but the world and especially ASEAN had a vested interest in their ties.
He also touched upon the changes underway in India, saying 'these are deeper and broader'.
"A very determined effort is being made to expand manufacturing, transform infrastructure and enhance the quality of human resources. The formalisation of the economy is also being accelerated, as indeed is the removal of impediments to its efficiency," he said.
"It is highlighted by a commitment to make it easier to do business," Jaishankar said.