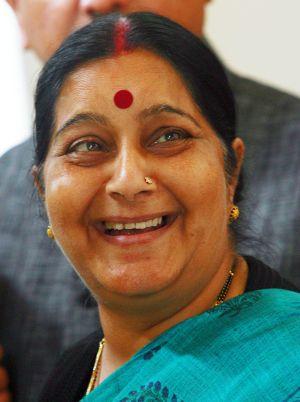 Opposition parties on Sunday slammed External Affairs Minister Sushma Swaraj and demanded her resignation for "helping" scam-tainted former Indian Premier League commissioner Lalit Modi in procuring travel documents in the UK, a country which he has made his home to avoid legal processes in India.
"I did not expect that Foreign Affairs Minister Sushma Swaraj ji would help Lalit Modi, against whom government has issued a look-out notice, procure travel documents... I appeal to Sushma Swaraj ji to immediately resign on moral ground," senior Congress leader Digvijay Singh said on Sunday.
His comment came after reports surfaced that Sushma had written to British lawmaker Keith Vaz to allegedly recommend travel documents for Lalit Modi for visiting Portugal. Swaraj said she had written to Vaz on "humanitarian grounds" after Lalit Modi said his wife was ill.
Digvijay Singh noted that Lalit Modi is facing probe by the Enforcement Directorate and has been served a notice by it, asking him to appear before it.
"If such a person is recommended by the Foreign Minister to Indian-origin British lawmaker Keith Vaz for help in getting the travel documents in the UK which he gets within 24-hours, then it is a serious issue," the Congress leader said.
He said Prime Minister Narendra Modi should clarify whether or not this was done with his consent.
Singh's party colleague Sachin Pilot said the PM "must himself answer as to why they (government) have been helping, supporting people who have been associated with all sorts of illegal transactions, who have run away from the country and are living overseas trying to avoid Indian law."
Janata Dal-United spokesman K C Tyagi also said, "I condemn the help given to him (Lalit Modi) by Swaraj."
Communist Party of India leader D raja said the matter was serious because Swaraj has admitted to "helping" Lalit Modi who is wanted in the country for economic offences and has been avoiding coming to the country.
"Prime Minister Narendra Modi owes an explanation to the country on impropriety committed by External Affairs Minister Sushma Swaraj," he said. Raja said the Prime Minister should say whether "this is also a part of good governance promised by him."
Communist Party of India-Marxist leader Brinda Karat termed the matter as a "case of grave impropriety" and said "it is the duty of the PM to answer".
AAP spokesman Ashutosh said, "it amounts to admission of a fact that she has helped Lalit Modi who is a legal offender. There is a lookout notice for him, a red corner notice and he is being probed by Enforcement Directorate."
He said Swaraj has "no option but to resign" and if she does not, then the PM should sack her.
On the other hand, the Rashtriya Swayamsevak Sangh, however, defended Swaraj, saying whatever she might have done would have been guided by her "humane" nature and "nationalistic" spirit.
Bahujan Samajwadi Party chief Mayawati, when asked about it at a press conference in Lucknow, said, "I do not have much knowledge of the matter. When inquiry report comes and Parliament meets, this issue will heat up. We want the facts of the matter. It will be better to react only after the inquiry report comes."