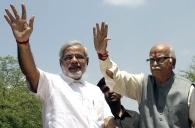 Ahead of the party's National Executive in Panaji, the Bharatiya Janata Party on Friday said there was no pro-Modi or pro- Advani faction in the party.
"There is no pro or anti-Modi or Advani factions. There are no differences in the party on either of the leaders," said BJP spokesperson Sudhanshu Trivedi.
The Modi versus Advani issue is a media creation, he said.
"You are trying to read too much into the absence of Advani for a day. He will be coming tomorrow," Trivedi said.
He also refuted speculations of Sushma Swaraj being upset over the alleged sidelining of party patriarch L K Advani vis-a-vis Gujarat Chief Minister Modi.
Trivedi said media speculation about Swaraj being upset and being later persuaded by BJP president Rajnath Singh to join the meeting was "imagination".
Swaraj, who arrived in Goa at around 1.30 pm, reached the BJP office-bearers' meeting at 4.30 pm, which delayed the event.
Trivedi dodged a question on whether Modi would be appointed as head of the party's campaign committee.
"Whatever we decide on the campaign committee, you will be told," he said.
While talking about issues on the two-day National Executive's agenda, he did not mention the campaign committee.
The executive, he said, would discuss national security, national pride, corruption, and the forthcoming assembly elections in five states, among other issues.
© Copyright 2022 PTI. All rights reserved. Republication or redistribution of PTI content, including by framing or similar means, is expressly prohibited without the prior written consent.