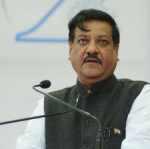 The Maharashtra government on Monday said that even though two big power plants with an installed capacity of over 3,000 MW are shut in the state, people will not be subject to load shedding.

"This (shutting of power plants) is definitely a matter of concern, but there will not be any load shedding," Chief Minister Prithviraj Chavan told reporters on the sidelines of the "Progressive Maharashtra summit" organised by FICCI in Mumbai.

He acknowledged that the Dabhol power plant on the Konkan coast (with an installed capacity of 1,967 MW) and the Parali thermal station in drought-affected Marathwada (1,130 MW) are completely shut due to want of gas and water, respectively.
"The coal from Parali will be transferred to Koradi or some other plant to reduce the cut in generation," he said without explaining any alternative for Dabhol, which is reportedly facing a shortfall in gas supply from both Reliance Industries as well as ONGC.
Chavan said the feeder separation, under which people are paying regularly for their usage, will continue.
"I don't think there will be a problem (even) in peak summer but only to people who pay," he added.
He sounded confident of getting power from other states, but declined to specify a number of the ongoing or expected deficit in the state.
Maharashtra, which otherwise prides itself to be one of the most progressed state when it comes to industrial development, has been plagued with electricity shortage for over eight years now, which have seen the deficit touch up to 5,500 MW during summer months.
Experts blame the slowdown in generation capacity addition, coupled with the huge transmission and distribution losses faced by the state power utilities, for the problem.
At its peak, rural areas faced a compulsory electricity cut of up to 13 hours a day while the urban areas are also not immune to it, with some pockets having no supply for six hours daily.