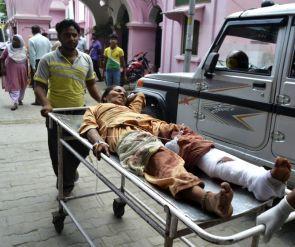 The Centre on Tuesday said there is no link between Pakistan's Inter-Services Intelligence and Muslim youth, who were victims of Muzaffarnagar riots, but agreed with Delhi police's statement that two suspected Lashkar-e-Tayiba operatives had met two persons in the area.
"There is no evidence or intelligence inputs that suggested that the ISI had approached the riot victims," a senior home ministry official said.
Minister of State for Home R P N Singh had also expressed similar view while replying a question in Parliament on December 11, 2013.
"As per information available by intelligence agency, there are no inputs suggesting any link between ISI, Pakistan and the Muslim youth belonging to the families of minority community affected in the recent communal riots in the district of Muzaffarnagar," he had informed Rajya Sabha.
The home ministry denied that the two residents of Muzaffarnagar whom LeT operatives met were riot victims or had anything to do with the violence there. "It is a fact that there are some ISI operatives in Western UP. But so far, we have no evidence or intelligence inputs that suggested that the ISI has approached the Muzaffarnagar riot victims," the official said.
There were media reports that suspected Lashkar terrorists had approached Muzaffarnagar riot victims to recruit men to their module, creating a major controversy as it came three months after Congress Vice President Rahul Gandhi had claimed that the ISI had approached victims of the riots.

Image: A victim of the Muzaffarnagar riots is rushed to hospital last September
© Copyright 2022 PTI. All rights reserved. Republication or redistribution of PTI content, including by framing or similar means, is expressly prohibited without the prior written consent.