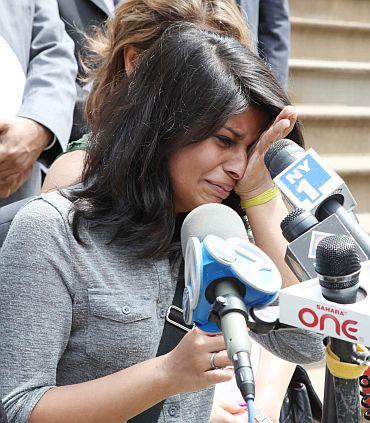 Diplomatic immunity does not apply to family members of consular officers, United States State Department has said, a day after the daughter of an Indian diplomat filed a law suit against New York City, alleging that she was falsely arrested and suspended for sending obscene emails to teachers at her Queens High School.
"The Vienna Convention on Consular Affairs provides that consular officers are not liable to arrest or detention pending trial, except in the case of a felony where a court warrant is required. But that provision does not apply to family members," the State Departments spokesman, Mark Toner, told mediapersons at a news conference on Wednesday.
Family members of the diplomats do carry diplomatic passports, he acknowledged but diplomatic immunity does not apply to them, he noted.
"This is different for consular officers versus those in the embassy. Those are different categories," Toner said.
At a news conference in New York, Krittika Biswas, daughter of the vice counsel at the Indian Consulate in Manhattan, Debashish Biswas, claimed that she was ill-treated in prison.
Biswas alleged that she was not allowed to use the bathroom for a long-time when she was in custody at the 107th precinct. "Eventually, I had to go in front of everyone," Biswas said, referring to a small toilet that was in the cell occupied by other persons.