Prime Minister Narendra Modi is all set for his second visit to the United Arab Emirates starting Friday as part of his West Asia trip which will also cover Palestine and Oman.
Ahead of his visit to the UAE, the prime minister had an offbeat interview with Gulfnews (external link) during which he divulged details about people who inspire him and about his travels.
Here are some key takeaways from the interview.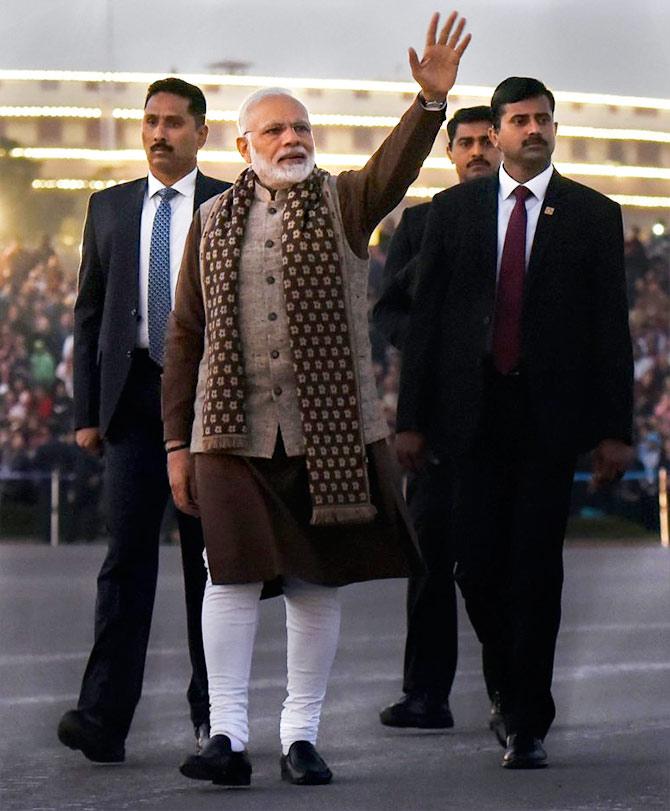 IMAGE: A people's person is what Modi would like to describe himself as. He says while travelling he likes to meet people and hear of their lives and their experiences. Photograph: @narendramodi/Twitter
On holidaying
"I have not been on a holiday either as chief minister or now as prime minister."
-- When asked about whether the PM takes a day off, Modi responded that since becoming Gujarat chief minister in 2001, he hasn't taken any time off. He says in the interview that travelling across the nation enriched his life, opening it up to new experiences.
On sleep
"My sleep cycle varies from four to six hours, depending on the workload. But I get a sound sleep every night."
-- This goes with his work ethos. The 'pradhan sevak' says he works tirelessly for the nation and it shows from his sleep patterns. In the interview, he says that he falls asleep within minutes of hitting the bed and his sleep is sound without a worry in the world.
IMAGE: Modi has always been a strong proponent of yoga. He's always present at the International Yoga Day celebrations, taking lead and showing the nation how it's done. Photograph: Pawan Kumar/Reuters
First and last activity of the day
"My day begins with yoga as I think it is extremely beneficial for the mind and body."
-- Despite the fact that he governs over the world's largest democracy the PM says he makes the time to do yoga and that's what fuels him for the day. He says that despite his hectic scheduling, he also takes time out and reads comments and feedback shared by citizens on the 'Narendra Modi Mobile App.
As for what he does before going to bed, Modi says it's all work as he goes through documents that are sent to him through the day and also preparing for the next day's schedule and appointments.
Favourite food
"I am not much of a foodie. I enjoy a simple vegetarian meal every day."
-- We all know Narendra Modi is a strict vegetarian so much so that even at state banquets and meetings with world leaders, the PM opts for an all-vegetarian meal.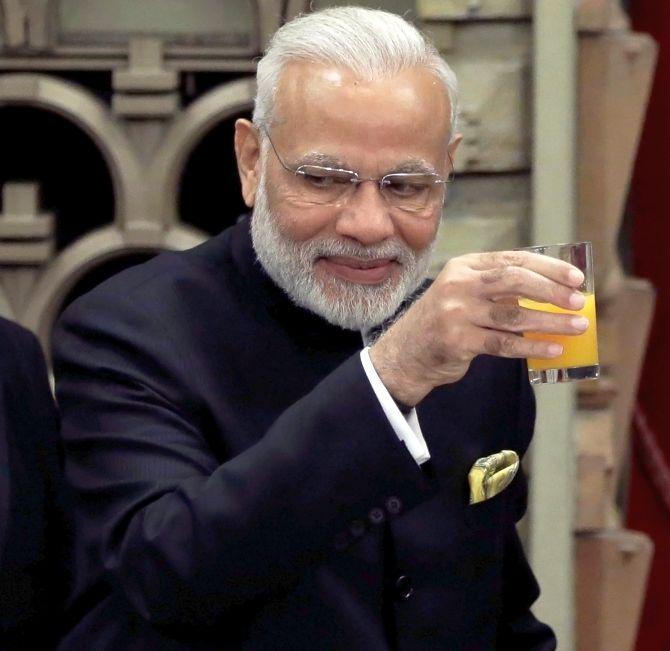 IMAGE: Not a foodie, is what PM Modi reveals about his culinary needs and demands. In fact, Modi has travelled the world and maintained his fasts, remember his US trip to visit Barack Obama?
Photograph: Kiyoshi Ota/Pool/Reuters
His inspirations
"Swami Vivekananda, Mahatma Gandhi, Sardar Vallabhbhai Patel, Dr Babasaheb Ambedkar,Shaheed Bhagat Singh, Benjamin Franklin."
-- Speaking about his inspirations, PM Modi says that several people have inspired him and he lists out the above names as some of them.
Talking about Swami Vivekananda, he says that the man had unwavering belief in the values of universal harmony and brotherhood. He also praises Mahatma Gandhi for his belief in peace and non-violence. Patel's effort to unify and integrate India is another inspiration to Modi.
Bhagat Singh's valour, Dr Ambedkar's determination and tenacity and Franklin's multi-dimensional personality are all other traits that he values in these great men.