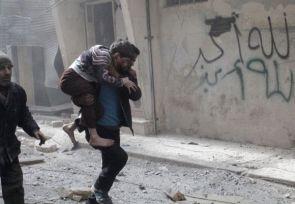 The United States is looking for a "limited narrow act" of military intervention in Syria that does not involve a "boots-on-the-ground approach", but has not made a final decision yet, President Barack Obama said.
"We're not considering any open ended commitment. We're not considering any boots on the ground approach," Obama told reporters in a brief interaction with the leaders of three Baltic countries.
Obama emphasised that he has "not made any decisions" about what actions the US will take.
"We have consulted with allies. We have consulted with Congress," Obama said after Secretary of State John Kerry indicated that the US is preparing to go it alone without the United Nations, because of Russian opposition.
He noted that lots of people, himself included, are "war weary."
"There is a certain weariness, given Afghanistan. There is a certain suspicion of any military action post-Iraq. And I very much appreciate that," Obama said.
"But its important for us to recognise that when over a thousand people are killed, including hundreds of innocent children, through the use of a weapon that 98 or 99 per cent of humanity says should not be used even in war, and there is no action, then we're sending a signal. That is a danger to our national security," he said.
He said that whatever the US does, it would not be a "major operation".
"We are confident that we can provide Congress all the information and get all the input they need. We're very mindful of that...but ultimately we don't want the world to be paralysed. A lot of people think something should be done but nobody wants to do it," said the US president.
Noting that the horrific images of the chemical weapons attack have shocked all, Obama said this kind of attack is a challenge to the world.
"We cannot accept a world where women and children and innocent civilians are gassed on a terrible scale," he said.
"This kind of attack threatens our national security interests by violating well-established international norms against the use of chemical weapons, by further threatening our friends and allies in the region like Israel and Turkey and Jordan, and it increases the risk that chemical weapons will be used in the future and fall into the hands of terrorists who might use them against us," he said.
"So I have said before, and I meant what I said, that the world has an obligation to make sure that we maintain the norm against the use of chemical weapons," he said.
"Now, I have not made a final decision about various actions that might be taken to help enforce that norm. But as I've already said, I have had my military and our team look at a wide range of options. We have consulted with allies. We've consulted with Congress. We have been in conversations with all the interested parties," he said.
"And in no event are we considering any kind of military action that would involve boots on the ground, that would involve a long-term campaign. But we are looking at the possibility of a limited, narrow act that would help make sure that not only Syria but others around the world understand that the international community cares about maintaining this chemical weapons ban and norm," Obama said.
He said, US is not considering any open-ended commitment.
"We're not considering any boots-on-the-ground approach. What we will do is consider options that meet the narrow concern around chemical weapons, understanding that there is not going to be a solely military solution to the underlying conflict and tragedy that's taking place in Syria," he said.
Meanwhile, a senior administration official said the US is not contemplating a military effort aimed at regime change.
"What we have said, though, and what we'll continue to do is pursue a strategy in Syria that seeks to strengthen the opposition, including through the provision of many different types of assistance, and we are coordinating our efforts in providing that assistance with other countries in the region and other allies and partners," the official said.
"What we'd like to see is a situation where there is a political process in which Bashar al-Assad leaves power. Because frankly, we think he's lost the legitimacy to lead. Anybody who has carried out the attacks he has against his population is not a legitimate leader in our eyes; and frankly, the use of chemical weapons only reinforces that point," he said.
In another statement, Senate Intelligence Committee Chairwoman Dianne Feinstein said, the world cannot let such a heinous attack pass without a meaningful response.
"I hope the international community will take appropriate action," she said after the intelligence assessment released by the White House said that the chemical weapons attack carried out by the Assad regime killed 1,429 people, including at least 426 children.