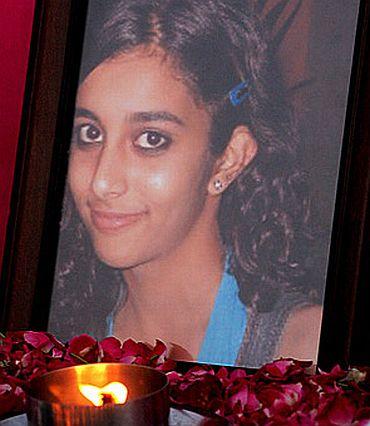 Jailed dentist couple Rajesh and Nupur Talwar will "not allow" any film or book on the murder of their daughter Aarushi and anyone taking up such a venture without their consent will face legal action, their lawyer said on Sunday.
Manoj Sisodia, counsel for Talwars who have been convicted and sentenced to life imprisonment for the double-murder of Aarushi and domestic help Hemraj, said the couple was "upset" with media reports on the issue and will not "allow any Hollywood and Bollywood film director to make films on the Aarushi case."
"We have got to know through media reports that some international and national film directors and writers are interested in making film and writing book on the Aarushi case. Rajesh and Nupur are very upset that some persons wanted to make money by producing a flick and writing a book on the murder of their daughter whom they loved so much," said Sisodia.
He said the couple is still "in shock" and "inconsolable" after their conviction.
Sisodia said that if such a film is made on the Aarushi case without Talwars' consent, they would take legal action against the directors and writers involved.
Since Talwars' conviction by the Ghaziabad special Central Bureau of Investigation court, there are several media reports that some filmmakers and writers are interested in making movie on the case.
On Friday, Hollywood film director Clip F Runyard had also reached Dasna Jail to meet the Talwars to seek their consent to make a film and write a book on Aarushi. However, he had not been allowed to meet Talwars by the jail authorities.
Sources had claimed the filmmaker had offered Rs 5 crore royalty to the couple in case they cooperate.