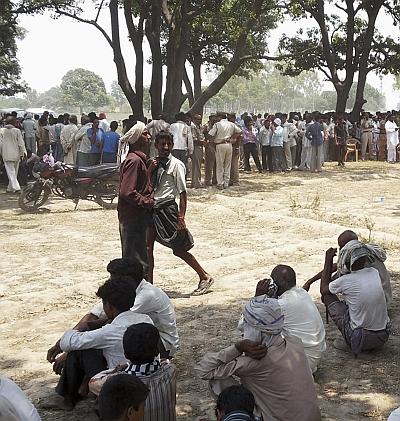 In a new twist to the sensational Badaun case involving two teenaged girls, the Central Bureau of Investigation on Thursday rejected the rape and murder angle given by the Uttar Pradesh police, holding that they had committed suicide by hanging themselves from a tree.
The agency, which started its probe in June, will file its final report before the trial court next week, CBI sources said in New Delhi.
They said a recommendation will be made for probe against state police officers for their botched up investigation.
The final report will also mention questionable actions of fathers of the girls, an uncle and main witness Nazru, also a distant relative, leaving it to the court to take further action, they said.
In Badaun, the families of the girls -- who were cousins -- rejected the CBI conclusion. They sought the intervention of Prime Minister Narendra Modi to ensure an independent and fair probe.
"The CBI has not explained why they would commit suicide. If we don't get justice we will kill ourselves," said the father of one of the girls.
"How is it possible that the girls could have committed suicide together from a tall tree... I appeal to Modiji to ensure that we get justice," he said.
The girls, who were 14 and 15, were found hanging from a mango tree near their village on May 28, a day after they were reported missing.
The CBI said it has based its conclusions on the basis of forensic reports received from three-member medical board, Central Forensic Sciences Laboratory, Centre for DNA Fingerprinting and Diagnostics, FSL Gandhinagar among others.
"Based on around 40 scientific reports, CBI has concluded that the two minor girls in the Badaun case had not been raped and murdered as had been alleged in the FIR. Investigation has concluded that it is a case of suicide," CBI spokesperson Kanchan Prasad said in Delhi.
CBI claims that the two girls had allegedly committed suicide at about 2 am on May 28 morning even as frantic efforts were being made by their families to trace them in the village.
The agency is of the view that girls took the extreme step when Nazru caught the elder one with prime accused Pappu Yadav in an objectionable position even as the younger sister was keeping vigil.
The girls probably feared social stigma and ended their lives, the sources said.
"The medical report from multi-agency medical board, corroborated by team of doctors which conducted first post-mortem during their examination, conclusively says that girls had committed suicide," a senior CBI official said.
CBI sources said there was no evidence of use of force on girls' bodies, sexual assault was ruled out by CDFD Hyderabad as there was no male DNA on their clothes, while the blood from younger girl's private part was due to menstrual cycle.
The sources said suicide was confirmed because of ligature mark due to hanging, presence of fecal matter in perineum region and tongue was slightly protruded, which is common in suicidal hanging.
During the probe the team, used live dummies (girls) of same age and height to reconstruct the crime scene and found that mango tree on which body was found was the most "climbable" among the 13 other trees.
The agency also took consideration 400 phone calls between the girl and Pappu.
Image: The site where two teenage girls were found hanging from a tree at Budaun district in Uttar Pradesh. Photograph: Anindito Mukherjee/Reuters
© Copyright 2021 PTI. All rights reserved. Republication or redistribution of PTI content, including by framing or similar means, is expressly prohibited without the prior written consent.