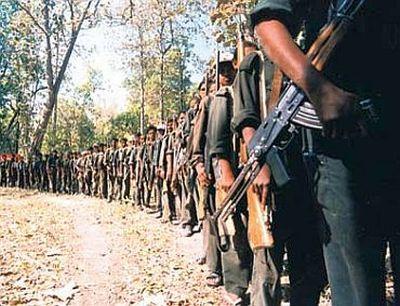 The Raman Singh government hardens its stand against the Naxalites days after state Home Minister Ramsewak Paikra said the Chhattisgarh government was ready for a dialogue with the leftwing extremists.
Rediff.com's Prasanna D Zore reports.
Even as an encounter in neighbouring Malkangiri district in Odisha -- where the Greyhounds, a special anti-Naxalite force in Andhra Pradesh along with the Odisha police killed 28 Naxals since October 22 -- continues, the Chhattisgarh government has hardened its stand against the Naxals who dominate the borders areas of Chhattisgarh, Odisha and Andhra Pradesh.
A few days after saying that the Chhattisgarh government was open for talks with the Naxals as quoted by PTI, state Home Minister Ramsewak Paikra says his government would welcome only those Naxals who surrender before the government.
Paikra denies he had said that the Chhattisgarh government was open for a dialogue with the Naxals.
"I was misquoted. We will welcome only those Naxals who have already surrendered or are ready to surrender," Paikra tells Rediff.com over the telephone when asked about his government's stance vis-a-vis the Naxals against the backdrop of the continuing encounter in Odisha's Malkangiri district.
"I had only said that if the Naxals show their willingness to surrender, then the government is ready (for talks). The government wants the Naxals to join the national mainstream, but they should surrender first," Paikra says.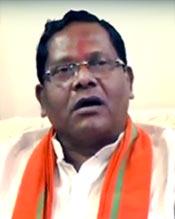 Citing a statement issued by Paikra, PTI reported, 'Mutual dialogue is the foundation of democracy. The state government is ready for talk with any side, including Maoists, to solve the Naxal issue. The government's doors for talks with Naxals are always open provided that the dialogue must be under the purview of democracy and the Constitution."
Paikra denies having said that.
Without giving an official figure about the number of Naxals who have surrendered to the Chhattisgarh government, Paikra says, "I cannot give you the exact figure, but they keep surrendering at regular intervals."
Keeping in mind the Malkangiri encounter, he has ordered the Chhattisgarh police to maintain a strict vigil along the Odisha-Chhattisgarh border.
"We do not expect any fallout of this encounter in Chhattisgarh," he says.
"Our police too are engaged in various operations against the Naxals," the minister adds. "We may take time, but we will uproot the Naxal menace from Chhattisgarh."
IMAGES: Left: A video grab of Chhattisgarh Home Minister Ramsewak Paikra. Top: Naxalites in the Chhattisgarh jungles. Photograph: Reuters