India on Wednesday hit out at China for demanding "solid evidence" for getting Jaish-e-Mohammed chief Masood Azhar banned by the United Nations, saying the extent of his actions were "well-documented" and the "burden of proof" was not on it.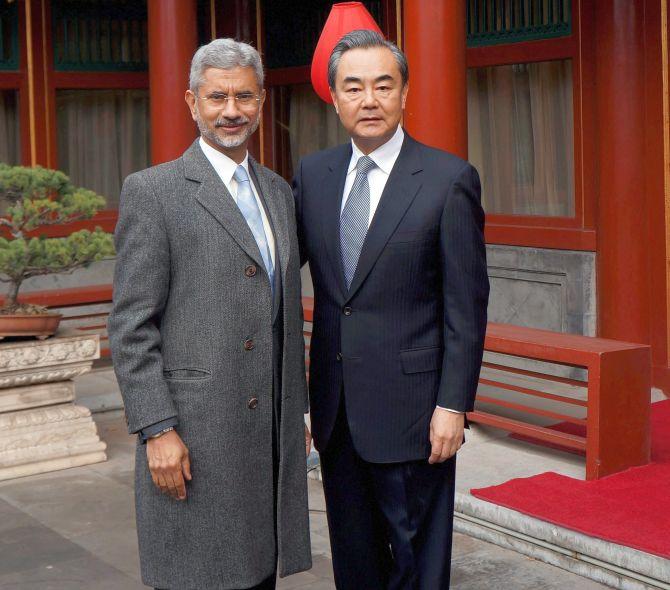 Foreign Secretary S Jaishankar, while briefing the media on his extensive interactions with top Chinese officials and talks at the upgraded strategic dialogue co-chaired by him in Beijing, said that the talks were "useful" in conveying India's concerns and priorities on key issues.
"On the issue of 1267 Committee's sanctions on Masood Azhar, we again explained the rationale for that application and pointed out that this was really pursued by other countries, not by India alone," Jaishankar said, referring to the United States' application backed by the United Kingdom and France this year to designate Azhar as a global terrorist.
On the Chinese foreign ministry calling for "solid eveidence" to get Azhar banned, Jaishankar said, "In the case of Azhar, Jaish itself is proscribed under 1267. So the proof is in (the) 1267 Committee action. In this case what he has done, extent of his actions are well-documented."
"Also the proposal in question this time is not moved by us. It is not that the burden of proof is on India to convince. The sponsors seem to be very well convinced, otherwise they would not have taken the initiative to move the proposal," he said.
About China saying that there is no consensus on the issue, the foreign secretary said, "There is no consensus because China has not joined it".
Since the 1267 Committee proceedings are not public, he said, "Our understanding is that there is overwhelming support in the 1267 (Committee). This (is) what we are told".
"Other countries should be asked. The 1267 Committee is not for public. Our understanding (is that) there is overwhelming support in the 1267 (Committee). This (is) what we are told," Jaishankar said.
"On the Nuclear Suppliers Group issue, (the) Chinese side underlined that they are open to India's application for membership. They have their view of procedures and processes. These were different from where we are at the moment and most of the group is at the moment," he said, referring to the wide support India's application enjoyed in the 48-member elite grouping which controls global nuclear commerce.
"I would say, overall, I felt my visit was certainly useful in conveying to the Chinese side our concerns and priorities and gaining from them an appreciation and their understanding of the world situation and in what manner we could work together," he said.
Besides holding talks with China's top diplomat Yang Jiechi yesterday, Jaishankar met Chinese Foreign Minister Wang Yi on Wednesday before co-chairing the strategic dialogue with Executive Vice Foreign Minister Zhang Yesui.
This is the first time China has fielded an executive vice minister who is also the head of the foreign ministry unit of the ruling Chinese Communist Party.
The dialogue was preceded by Director General and Joint Secretary-level talks on nuclear issues, India's Nuclear Suppliers Group bid, issues at the UN.
The talks also included counter terrorism issues which reportedly covered efforts to get JeM chief Azhar banned by the UN as well as Afghanistan, bilateral and counsellor issues besides global issues.
Highlighting the issues of concerns for India, Jaishankar said both the NSG and Azhar issues have been discussed.
UN has already listed Jaish-e-Muhammad which is headed by Azhar.
China put a technical hold twice last year when India moved the application after the Pathankot terrorist attack.
Beijing again repeated its action this year when the US moved the application.
Pointing to the wider support for getting Azhar banned, Jaishankar said, "the fact that other countries were pressing for this application showed that there was broad intentional support for this and concern about Masood Azhar's activities".
He also said he has highlighted India's concerns about widening trade deficit which last year amounted to over USD 46 billion.
"Another issue that came up was trade and economic cooperation. We made our concern about the trade deficit to (the) Chinese side. It was agreed that the Joint Economic Group headed by Commerce Ministers will meet early to discuss this," he said.
The Chinese side has taken some measures but clearly these have not addressed the problem in a substantive way, Jaishankar said, referring to Beijing's promise that it would remove trade barriers for India's IT and pharmacuitical sectors to make them more competitive.
About Chinese investment for which India has been making a big pitch for in the past few years, Jaishankar said Chinese officials said the investments have gone up by seven times. Official media has been saying the Chinese investments amounted to USD 1.06 billion.
"In terms of forward progress, there was recognition that investment climate has improved and Chinese investments have gone up substantially and the fact that visas and exchanges were going much better," he said.
"Overall sense is that in the last seven or eight years the relationship has really broadened out very much today, that it is not just between the central governments of the foreign ministries, you have robust defence, security exchanges, economic exchanges, sister city relations academic interaction," the foreign secretary said.
Jaishankar said that the comprehensive talks with China should not be fixated on the outcomes of issues like the NSG and Azhar but on the broader perspective of the importance of bilateral relations.
"My own sense is that before me coming here whatever speculation that has been in our media to my mind did not really comprehend what the exercise was," he said.
"This is not an exercise (in which) you have two or three issues and those become necessarily standard of judgement. It was broader consultation that we have (with) other countries like Russia and the US in the coming weeks," he said.
"Recognise the large process rather (than being) fixated on a few issues where we and China have no meeting of minds," he said.
On its part, China raised the issue of the Dalai Lama taking part in the Nobel Laureate summit held in Rashtrapathi Bhavan attended among others by President Pranab Mukherjee last year.
Jaishankar said that India has reiterated it was a meeting of nobel laureates which is for child labour. "They should not read any political meaning into it".
Asked whether China has raised the issue of the visit of a Taiwanese Parliamentary delegation to India over which Beijing has lodged a protest, he said, it did not figure in the talks.
However, Jaishankar said, "It is not a mountain of molehill. There is no hill," he said, adding that it was a non-issue as people come from Taiwan to India for purposes which are well known to everybody.
"That is all there is to it. It has not come up," he said.
Jaishankar also said high-level visits of Chinese leaders to India are being discussed but they are still under finalisation.
IMAGE: Foreign Secretary S. Jaishankar with Chinese Foreign Minister Wang Yi before a meeting in Beijing. Photograph: PTI Photo