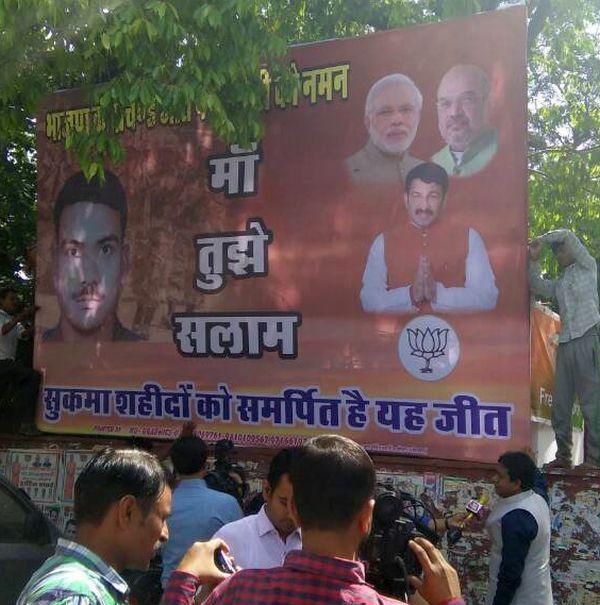 Heading towards a clean sweep in all the three civic bodies, the Bharatiya Janata Party on Wednesday dedicated its impending win to the slain Central Reserve Police Force personnel in Chhattisgarh's Sukma district and decided to refrain from any celebrations.
Delh BJP chief Manoj Tiwari said that the every heart is filled with grief over the killing of 25 CRPF men in Sukma and the party will not celebrate the victory.
"But for the Sukma incident, we would be on the streets celebrating this massive victory. We dedicate this win in the feet of Sukma martyrs," he said.
Tiwari also asserted that the results of MCD polls were a referendum on Kejriwal government.
"We had been saying this earlier also that MCD polls will be a referendum on Kejriwal government. Arvind Kejriwal used to advocate Right to Recall and it seems now that Delhi people have used the right on him," he said.
Counting of votes began at 8 am with BJP gaining leads in all the three municipal corporations -- North Delhi Municipal Corporation, South Delhi Municipal Corporation and East Delhi Municipal Corporation.
Voting for 270 of the total 272 municipal wards was held on April 23. Two wards where candidates died, voting was cancelled.
Image: Poster put up outside BJP HQ dedicating MCD win to CRPF jawans who lost their lives in Sukma attack. Photograph: ANI/Twitter