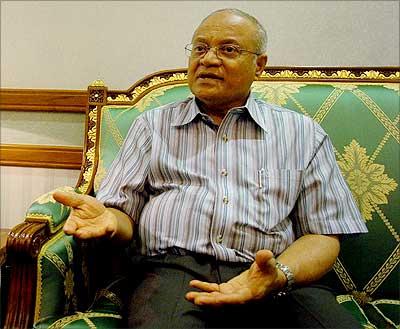 Considered a powerful player in Maldivian politics, former President Maumoon Gayoom on Thursday sought to allay India's concerns over rise of fundamentalism in Maldives by assuring strict implementation of a law to check radicalisation of Islam once his party returns to power.
The 76-year-old Maldivian leader also made it very clear that China was no substitute for India as far as his country was concerned. Gayoom, who during his four-day visit met the top leadership including Prime Minister Manmohan Singh here ahead of the Maldivian Presidential polls in September, told PTI in an interview that during his meetings, the Indian leaders conveyed their concerns over growing Islamic fundamentalism in his country.
"I told the Prime Minister, told everybody else that we have a law in the country, that is protecting the religious unity in Maldives. The law was passed during my time and it prevents any preacher saying things that will rouse public opinion against certain section of the people or gender," he said, while ruing that the law was not being implemented.
"I assured everybody that we will do it because that law is good for the country because we want to be a moderate Muslim country....We don't want any ill-feeling between us and our neighbouring countries, who are not Muslim countries. We want good relations with India," he added.
He also talked on various other issues, including Maldivian government's unilateral decision to terminate over $500 million GMR airport modernisation project in Male, Maldives' proximity with China and Indian investments in his country.
Asserting that China was no substitute for India as far as Maldives was concerned, Gayoom said,"I do not think there is any China thing in this (India-Maldives) affair. China has been a very good friend.
"Even during my time, China had come in with very good projects that were completed with Chinese assistance. China is a very good friend of Maldives. India is also a very good friend of Maldives. But there is no competition or rivalry between the two in Maldives."
Gayoom also alleged that former President Mohamed Nasheed gave an impression that there was rise in Islamic fundamentalism in Maldives to get support of the West.
"It is all political. Nasheed wants to gain Western support and that is why he is saying that. We don't have radical Islam. We don't have militancy in Maldives. There is no incident of any militant Islam in Maldives as such.
"We do have one kind of fundamentalism, you might call it or extremism and that is people want to go back in history ...that trend is there in Maldives. But, there is no violence. There is no radicalism".
Asked if he was opposed to fundamentalism, he said, "Of course I am. Because I am scholar of Islam in my own right. Islam is not a religion of terror and violence. It is a mreligion of peace and friendship and compassion".
He added that the religious law, that was passed during his 30-year rule, prevents any preacher from saying things that will arouse public opinion against certain section of the people or gender. He said anyone who preaches in public must have at least a degree from university or education institution recognised by Maldivian government.
"Anybody else can't do so. The problem is that this law is not being implemented in full. I did but then it has been ignored. "That is why people are talking, saying anything like music is 'haram', singing is 'haram'. That sort of thing is happening because they are not keeping the law," he said.
Asked about allegations that he was behind the chain of events that finally led to the ouster of Nasheed in February last year, he said, "I was away in Malaysia for treatment of my wife. I had no inkling about the things. But yes, once Waheed took over as President, he called me and we said we will support you".
On GMR's ouster, he said, "The fault was not with GMR but with Nasheed. The contract given was against the law of the land".
© Copyright 2022 PTI. All rights reserved. Republication or redistribution of PTI content, including by framing or similar means, is expressly prohibited without the prior written consent.