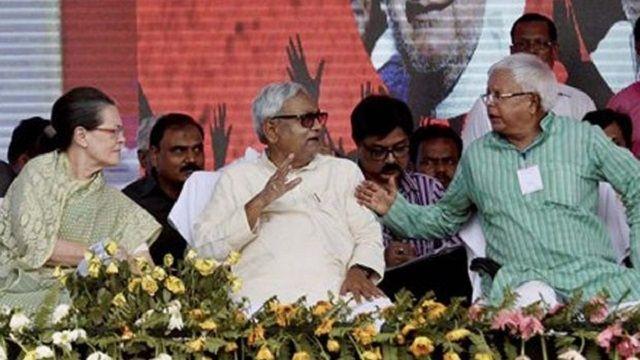 Speculation is rife that Bihar's ruling Janata Dal-United is likely to support the Bharatiya Janata Party-led National Democratic Alliance's choice for the upcoming Presidential poll. This ties in with Bihar chief minister Nitish Kumar's refusal to attend the meeting of non-BJP parties called by Congress president Sonia Gandhi in New Delhi on May 26. The meeting will discuss the presidential polls and the way ahead for the opposition to tackle the BJP.

Nitish Kumar has reportedly turned down Sonia Gandhi's invitation saying he is busy, which naturally has the BJP camp in Patna rejoicing.

"It is evident Nitish Kumar will take a different stand on the presidential polls. When he was with the BJP-led NDA, he had supported the UPA's candidate. Now, he is with the the UPA, but he has signalled that he will not support them, but us," senior BJP leader Vinod Narain Jha told Rediff.com in Patna.

"Look, Nitish Kumar supported the surgical strike and the demonetization drive, unlike his allies – the Rashtriya Janata Dal and the Congress. He will not take Sonia Gandhi's meeting seriously," Jha added.
The BJP leader added that Nitish Kumar, who is also JD-U president, had also unwittingly exposed the differences among the non–BJP parties led by the Congress even before it had taken concrete shape. "Anti-BJP sentiment will not work any longer. They are a divided house even before they united," he said.

However, JD-U spokesperson Neeraj Kumar said nothing should be read into Nitish Kumar's decision not to attend the Sonia Gandhi meeting.
"Nitish Kumar has a prior engagement as Bihar chief minister and in his place, the party's senior-most leader, Sharad Yadav, will attend the meeting as his representative. Where is the problem?" Jha, however, said that Sharad Yadav was a mere showpiece, who has been sidelined by Nitish Kumar and hardly holds any clout in the party.

Neeraj said Nitish Kumar was one of the first leader's who publicly favoured a maha gathbandhan, like Bihar, at the national level of non BJP parties, ahead of the 2019 general elections. He recalled that Nitish Kumar has already advocated a second term for President Pranab Mukherjee. "Nitish Kumar has personally met Sonia Gandhi in Delhi recently and discussed his stand on the presidential polls," the JD-U spokesperson added.
Interestingly, Nitish's ally, RJD chief Lalu Prasad Yadav, will attend the meeting hosted by Sonia Gandhi and has announced that he will not support a second term for Pranab Mukherjee.

A section of the local Hindi media has been projecting a bonhomie between Nitish Kumar and Prime Minister Narendra Modi despite their disparate political goals. They also point out that Nitish Kumar was part of the BJP-led National Democratic Alliance for nearly 17 years. He was a Cabinet minister in Atal Bihari Vajpayee's government in 2005 and had formed the government in Bihar along with the BJP. It was only in 2013, the JD-U parted ways with the BJP after it named Modi as its prime ministerial candidate for the 2014 Lok Sabha election.
Image: Congress President Sonia Gandhi, Bihar Chief Minister Nitish Kumar and Rashtriya Janata Dal chief Lalu Prasad Yadav at the Swabhiman Rally in 2015. Photograph: PTI Photo.