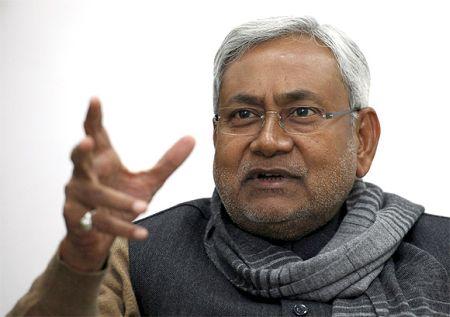 A day after Bihar Chief Minister Nitish Kumar demanded central assistance of Rs 12,000 crore to tide over the drought in 33 of the 38 districts in the state, opposition leaders appeared keener to politicise the issue by portaying themselves as champions of millions of drought-hit farmers.

Opposition leaders on Friday termed Nitish Kumar's government decision to declare 33 districts drought hit as a delayed step to provide relief to million of farmers.

"It is a delayed step because state government must have declared drought last month itself, leader of opposition Nand Kishore Yadav said.

Yadav, a senior Bharatiya Janata Party leader, said that it is result of government's reluctance to accept the ground reality that led to the delay.
"It will not benefit drought hit farmers," he said.

Another senior BJP leader and former deputy chief minister Sushil Kumar Modi said that Bihar government had "ignored our demand to declare drought hit and half a month ago".
"The government had declared 28 districts drought hit due to 21 percent rainfall deficit in the first week of August, 2010. However, this year the situation has worsened with 25 per cent rainfall deficit. Yet the government reacted only on the third week of September," Modi pointed out.
Rashtriya Janata Dal chief and former Union minister Lalu Prasad Yadava also questioned Nitish Kumar's decision to declare drought on September 18. "It is a late decision. Farmers across the state are fighting for survival since early August but the government awakened now," he said.
Last month, the opposition had demanded that 24 districts be declared drought affected.

Meanwhile, Nitish Kumar on Thursday met Finance Minister P Chidambaram and will meet Prime Minister Manmohan Singh on Friday to seek help on the drought situation.

Principal Secretary in the state disaster management department Vayasji told Rediff.com that the decision to declare drought was taken at a special cabinet meeting in Patna following poor rainfall.
Vyasji also said paddy plantation has been badly affected in Patna, Gaya, Bhojpur, Nalanda, Jehanabad and Kaimur districts.

According to an agriculture department report, Bihar received 668.6 mm rainfall against the average of 892.2 mm in the June 1 to September 11 period this year.
The rain deficit resulted in a lower water table in Aurangabad, Nawada and Nalanda districts.
The officer said that though 88 percent of paddy plantation target had been met, paddy saplings that were transplanted are dying in absence of adequate rainfall.
The government would provide assistance to farmers under the state disaster response fund and national disaster response fund with immediate effect, Vyasji also said.
Last month, the opposition had demanded that 24 districts be declared drought affected.

Reports received in Patna say that unlike in the past, there is no water for irrigation in the canals. A large part of central Bihar is irrigated by water from the Sone river brought through canals.

Even the water table in parts of central and south Bihar has depleted to alarming levels due to poor monsoon.

Image: Bihar Chief Minister Nitish Kumar
Photograph: Reuters