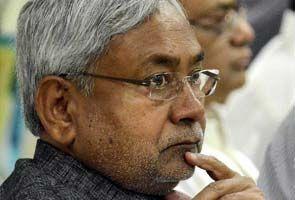 Facing stiff challenge to see Janata Dal-United candidates through in the coming bypoll for two Rajya Sabha seats in Bihar, Nitish Kumar on Saturday appealed to arch rival Lalu Prasad, Congress and Communist Party of India to make common cause to "foil the game plan of BJP to destabilise the government".
"I have talked to Lalu Prasad, Congress state chief Ashok Choudhary, its legislature party leader Sadanand Singh and CPI secretary Rajendra Singh seeking their support for victory of two JD-U candidates in the bypoll to Rajya Sabha in Bihar," Nitish Kumar told reporters at the JD-U headquarters.
The two JD-U nominees -- diplomat-politician Pawan Varma and Gulam Rasool Balyawi -- are facing stiff challenge from independents -- real estate baron Anil Sharma and Sabir Ali who are being backed by party rebels and BJP in the June 19 bypoll.
The party leader and former chief minister said he has appealed to the three secular parties to foil BJP's "design of destabilising the Jitan Ram Manjhi government and thrust an early election in Bihar".
Asked to comment on whether his approaching arch rival Lalu Prasad to bail out the JD-U candidates was due to political compulsion, Kumar retorted "No it is because of political circumstance."
To another question on burying the hatchet and joining hands with Yadav now after spearheading the campaign against him during the past two decades, Kumar said "It is due to political circumstance as we have now to fight a common enemy in BJP which is mocking at us."
"BJP is the main conspirator in the RS bypoll (for supporting rebellion within JD-U and backing two Independents).It aims to destabilise the Jitan Ram Manjhi government and thrust an early election in Bihar," he said.
Arithmetic is weighing against ruling JD-U in the bypoll. In Bihar assembly, whose effective strength at present is 232 due to 11 vacancies, JD-U has 117 MLAs including the speaker, BJP 84, RJD 21, Congress 4, Independents 5 and CPI 1.
In normal circumstances the victory of JD-U candidate was guaranteed but with a large number of its legislators turning rebels and supporting independents along with BJP, the vote of 21 RJD MLAs holds the key to the result in the bypoll.
Kumar said there was 'nothing unusual' in JD-U making common cause with RJD, Congress and CPI in the RS bypoll as the three parties had voted for Jitan Ram Manjhi government in the confidence motion on May 23.
"BJP wants to thrust an early election in Bihar destabilising Manjhi government by ensuring JD-U defeat in the RS bypoll ...But JD-U along with RJD, Congress and CPI wants the state government to complete its term till November next year," he said.
Asked if this unity between the four parties signalled a grand alliance of secular parties in the next assembly poll, Kumar said "Right now I have appealed to them to be together for the RS bypoll ... Rest lies with the future."
"When we reach the bridge we will cross it," he said.
In reply to another question whether 7 RCR (official residence of Prime Minister Narendra Modi in Delhi) was behind the 'conspiracy', Kumar said "I do not believe in taking names in politics".
"But it is known that entire BJP is together in formulating this gameplan to destabilise Manjhi government," he said launching a blistering attack on former ally BJP.
Apparently referring to Bihar BJP leader Sushil Kumar Modi, who was his former deputy, he said, "The entire world knows that the strategy to field two independents against JD-U candidates was drawn at the residence of a senior state BJP leader from whose house they came straight to file nominations."
Continuing his tirade, Kumar, said BJP was "On cloud nine after the victory and mocking at rivals like me."
"The victory which has come to them (BJP) due to their successfully weaving lies will not last long and that is why they are hatching conspiracy to destabilise governments of their rivals."
Kumar, who tendered resignation from chief ministership in the wake of JD-U's debacle in the general election in which it won only two seats compared to 20 last time, said though the poll was a mandate for the government at the Centre he owned moral responsibility for the party's poor showing and quit.
"It was not a vote against me as the election was for formation of government at the Centre."
On a query on dissidence by a section of JD-U legislators who were apparently against him, Kumar evaded a direct reply and said "It is a matter within the family which we will sort out."
Image: Janata Dal-United leader Nitish Kumar