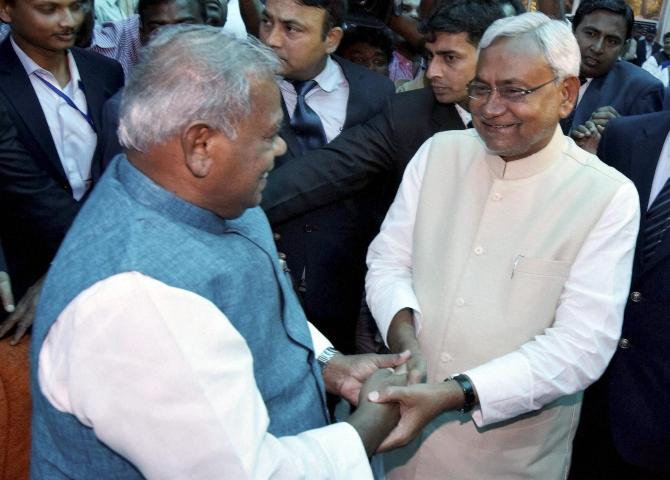 New Bihar Chief Minister Nitish Kumar being greeting by former CM Jitan Ram Manjhi after he took oath at Raj Bhawan in Patna on Sunday.Photograph: PTI Photo
Nine months after he stepped down, Janata Dal-United leader Nitish Kumar was on Sunday sworn-in as the Bihar chief minister, ending days of political drama following a bitter power struggle with Jitan Ram Manjhi.
Nitish, 63, was administered the oath of office by Governor Keshari Nath Tripathi at a glittering function at the Raj Bhawan, which was attended, among others by Manjhi, who had refused to quit as chief minister to make way for Kumar in defiance of the party leadership.
Besides Kumar, 22 ministers, including three women, were also administered the oath of office. Former prime minister H D Deve Gowda, several chief ministers -- Mamata Banerjee (West Bengal), Akhilesh Yadav (Uttar Pradesh), Tarun Gogoi (Assam) and Indian National Lok Dal leader Abhay Chautala, were also present on the occasion.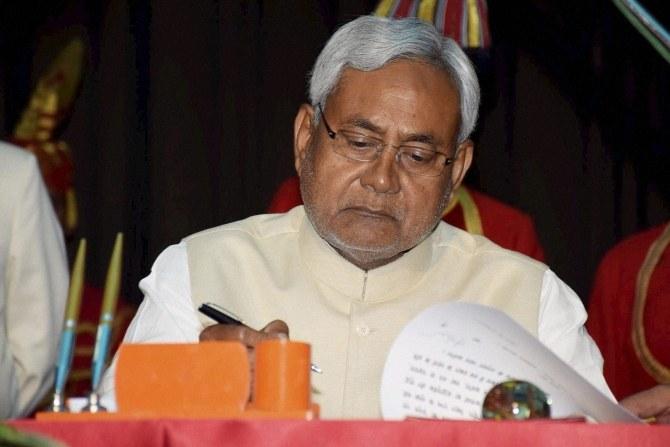 Nitish signs official documents after taking oath as state's CM for the fourth from Bihar Governor Keshari Nath Tripathi at Raj Bhawan in Patna. Photograph: PTI Photo
The ministers are: Vijay Kumar Chaudhary, Vijendra Prasad Yadav, Ramai Ram, Damodar Raut, Narendra Narayan Yadav, P K Shahi, Shyam Rajak, Awadesh Kushwaha, Lesie Singh, Dulal Chand Goswami, Rajiv Ranjan Singh alias Lallan Singh, Shrawan
Kumar, Ramlashan Ram Raman, Ramdhani Singh, Jai Kumar Singh, Manoj Kumar Singh, Javed Iqbal Ansari, Bima Bharti, Ranju Geeta, Baidyanath Sahni, Vinod Singh Yadav and Naushad Alam.
Of these 22 ministers in Kumar's team, 20 had resigned from the Manjhi government, while two others, namely P K Shahi and Rajiv Ranjan Singh alias Lallan Singh, were sacked by the former chief minister.
With Sunday's swearing in, Nitish is back in the chief minister's chair he had quit on May 17, 2014 over the JD-U's debacle in the general election. After stepping down, Nitish, despite resistance from JD-U legislators against his resignation, had his way and handpicked Manjhi to succeed him on May 20, 2014.
But, within eight months of the decision Kumar was forced to change the plot in the wake of dissent against him by Manjhi along with a section of JD-U ministers and legislators.
The Bharatiya Janata Party used the dissension to the hilt and extended support to Manjhi. But, the floor test could not be taken as Manjhi tendered his resignation ahead of the vote on last Friday.