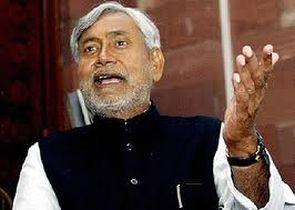 Chief Minister Nitish Kumar on Wednesday rubbished reports that he was trying to engineer defection in Rashtriya Janata Dal to bolster numbers of his government which at present is surviving on support of Independents and Congress Legislators.
"Bakwash hai (it's gossip)," Kumar told reporters in reaction to reports in a section of media about attempts to wean away MLAs from jailed Lalu Prasad's RJD.
"RJD is a strong party...nobody can break it," he said, emerging from a function of the Road Construction and Urban Development departments.
The report said that a majority of MLAs of RJD belonging to other than Lalu Prasad's caste (Yadav) have been lured and the plot of defection is almost ready.
There are 22 RJD MLAs in the 238-member Bihar Assembly. Abdul Bari Siddiqui is the Legislature party leader of the party in the House.
Kumar also denied poaching MLAs of BJP. "Rather it is former Deputy Chief Minister Sushil Kumar Modi who is making claim every day that he will break Janata Dal-United," the CM said.
RJD has also ruled out any such possibility.
"RJD is totally united. All the legislators and leaders of RJD have full faith in the leadership of Lalu Prasad and Rabri Devi," state party president Ramchandra Purve said in a statement here.
Purve claimed that as part of the party's "Parivartan rally" led by Rabri Devi in the absence of Lalu Prasad, who is in Ranchi jail in a fodder scam case, youths, women and people belonging to dalits, OBC and minorities are coming together across the state.
"Out of fear of expanding base of RJD the ruling party is spreading such delusion which will never be successful," Purve added.
After severing ties with BJP, Nitish Kumar is left with 118 MLAs in the Bihar Assembly. It managed the magic figure of 122 post-split with the help of four Congress MLAs, as many Independents and a CPI MLA.
Senior BJP leader and former Deputy Chief Minister Sushil Kumar Modi on Wednesday told reporters that he has information that Independents have given an ultimatum to the CM to expand Cabinet by December 19 failing which they would review their support.
He said even Congress legislators are distancing from Kumar because of his hard-hitting reactions against Congress after the results of Assembly elections in four states.