Bihar Chief Minister Nitish Kumar's Janata Dal-United has announced its new office bearers at the national level, including a vice-president and more than 20 general secretaries.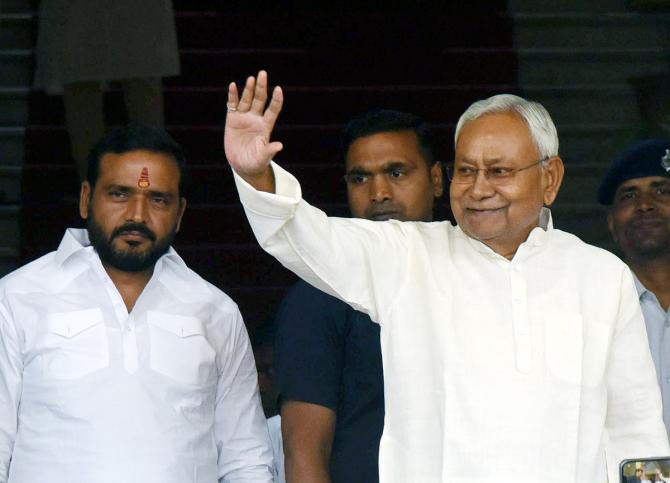 According to the list approved by JD-U national president Rajiv Ranjan Singh alias Lalan, who is also Leader of the Parliamentary Party, Mangani Lal Mandal, a veteran politician who joined the party four years ago, have been made the vice president.
Mandal, who becomes only the second person to have been appointed to the top post after former political strategist Prashant Kishor, had quit the Rashtriya Janata Dal in the thick of 2019 Lok Sabha polls to join JD-U, which was then with the BJP-led NDA.
Now, both JD-U and RJD are allies and it would be interesting to see how the elevation of Mandal, who has switched sides more than once, plays out.
Conspicuous by its absence, though, is the name of KC Tyagi, arguably, the JD-U's best known spokesman who held the weighty sounding designation of pradhan maha sachiv (chief general secretary).
Party sources are tight-lipped about the fate of Tyagi, who is a trusted aide of Kumar, the party's supreme leader, but has reportedly often left the latter embarrassed by going public on issues without waiting for a nod from the boss.
Tyagi, who is based in Delhi, could not be reached over phone for his comments on the omission.
Among the new office bearers are 22 national general secretaries, including Rajiv Ranjan, a former MLA from the Chief Minister's native district of Nalanda, who recently returned to JD-U after quitting the BJP wherein he had held the post of a state general secretary.
In a separate press release, MLC Afaque Ahmed Khan, who has been retained as a general secretary, asserted that Ranjan was "nominated as general secretary and spokesperson" and requested media outlets to treat him as "the authorised person on behalf of our party" and expressed alarm over "unauthorised persons" claiming to be JD-U representatives.
Other general secretaries include Members of Parliament Ram Nath Thakur, Giridhari Yadav, Santosh Kushwaha, Chandeshwar Prasad Chandravanshi, Vijay Manjhi and Ram Prit Mandal.
Also on the list are state minister Sanjay Jha, besides a host of leaders who quit other parties in recent past to join JD(U), like Qamar Alam, Mohd Ali Ashraf Fatmi, Bhagwan Singh Kushwaha, Ram Kumar Sharma and Dasai Chaudhary.
In an apparent bid to send out the signal that minorities take a pride of place in the party, disgruntled leaders like former MP Kehkashan Parveen and MLC Ghulam Rasool Baliyavi have also been included in the list of national general secretaries.
Besides there are seven national secretaries, including MLC Ravindra Singh.
Alok Kumar Suman, the MP from reserved Gopalganj seat, has been made the treasurer.
Caste arithmetic seems to have played a part with the Extremely Backward Classes, Dalits, Kurmis and Koeris, the electoral mainstay of the JD-U, getting weightage Though other social groups like Yadavs, largely seen as RJD supporters, and the upper castes who have been mostly aligned with the BJP, have also been given representation.
© Copyright 2023 PTI. All rights reserved. Republication or redistribution of PTI content, including by framing or similar means, is expressly prohibited without the prior written consent.