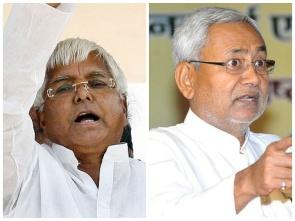 And so it's official. After months of speculation and rumours swirling, it was confirmed on Sunday that Nitish Kumar's Janata Dal-United and Lalu Prasad Yadav's Rashtriya Janata Dal will contest the by-elections to 10 assembly seats in Bihar together.

Ending days of speculation, JD-U state president Vashsisht Narain Singh on Sunday made it clear that the two parties have joined hands and will contest the polls together to defeat their main rival -- the Bharatiya Janata Party.
"JD-U and RJD will contest the by-polls together in the state. Seat sharing will be decided by the top leaders of both parties. Our aim is to defeat the communal forces in Bihar," said Singh, a day after the Election Commission announced that August 21 would be the date of the by-elections in Bihar.
Singh added the polls will be a litmus test for the BJP. "We are confident that JD-U and RJD will sweep the bypolls," he said.
The 10 constituencies going to the polls are Narkatiaganj, Rajnagar, Jale, Chhapra, Hajipur, Mohiuddinnagar, Parbatta, Bhagalpur, Banka and Mohania.
The alliance assumes much significance in state politics viewing the surge of the BJP in the state. Just last month, RJD had extended support to the JD-U's two candidates for the Rajya Sabha polls. Then Lalu Prasad Yadav had even said that the reason for his extending support was to keep the BJP out.
Earlier on Thursday, hinting at an alliance, Nitish Kumar had hit out the BJP, saying it 'gripped with fear' over a probable tie-up between the two parties. "The BJP is gripped with fear hearing possibility of it," he had said.

The former Bihar chief minister had recently expressed favour for a grand alliance between the JD-U, RJD, Congress and Left against BJP in next year's state assembly elections.